Learn how to make these crispy and delicious shrimp chips that taste like something you'd get at a restaurant. Ready in less than a minute, these prawn crackers are perfect to serve anytime!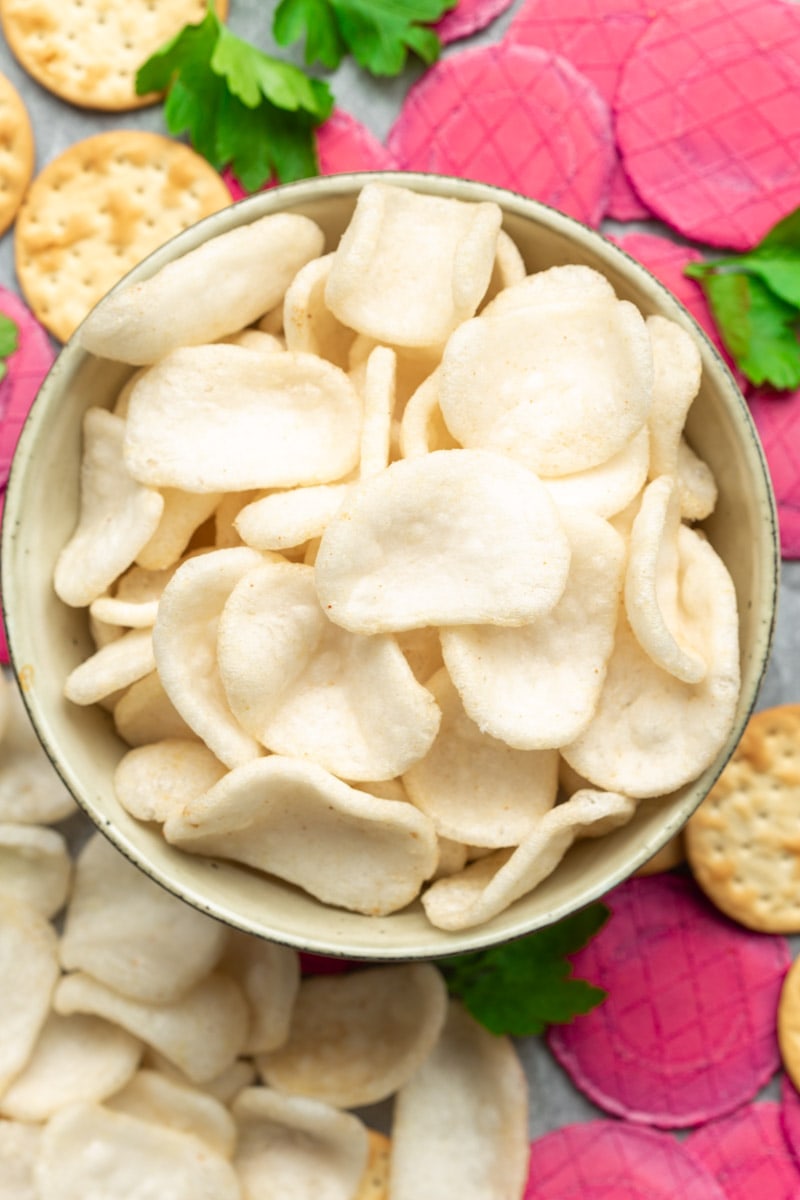 The Best Homemade Shrimp Chips
Want an easy yet delicious snack? Then, you must try this shrimp chips recipe.
You can literally make this snack in seconds and the ease doesn't mean you have to compromise on taste.
We grew up eating these on special occasions whenever we'd get Chinese takeout.
What are shrimp chips? 
If you've been to Chinese and Vietnamese restaurants, then you might have seen crispy, colorful fried chips being served there. These are shrimp chips, also known as prawn crackers. It's a popular snack in South East Asia. 
They involve dehydrated paste that is added to hot oil and then expand and cook into deliciously crispy chips.
These days, you'll find them in mainstream grocery stores, Asian supermarkets, and even
Ingredients needed
You'll just need the following two ingredients to make this delicious snack: 
Safflower oil –

For frying. 

Uncooked prawn crackers –

Choose colored or uncolored as per your choice. 
How to make prawn crackers
Simple is an understatement for this recipe.
The entire batch of shrimp chips takes less than two minutes to make and you'll have to control yourself from making them daily!
So, grab your ingredients and follow this 2-step recipe to make them. 
Step 1- heat the oil 
Start by adding ½ inch of oil to a small skillet and placing them over medium heat. I recommend using a thermometer to check the temperature, as the ideal temperature for frying is between 350-375F. 
Step 2- add prawn crackers 
Once the oil has reached the required temperature, add crackers and cook until puffed, at least 15 seconds. 
Transfer the cooked crackers to paper towels to remove excess oil and cool. It's best to serve them immediately.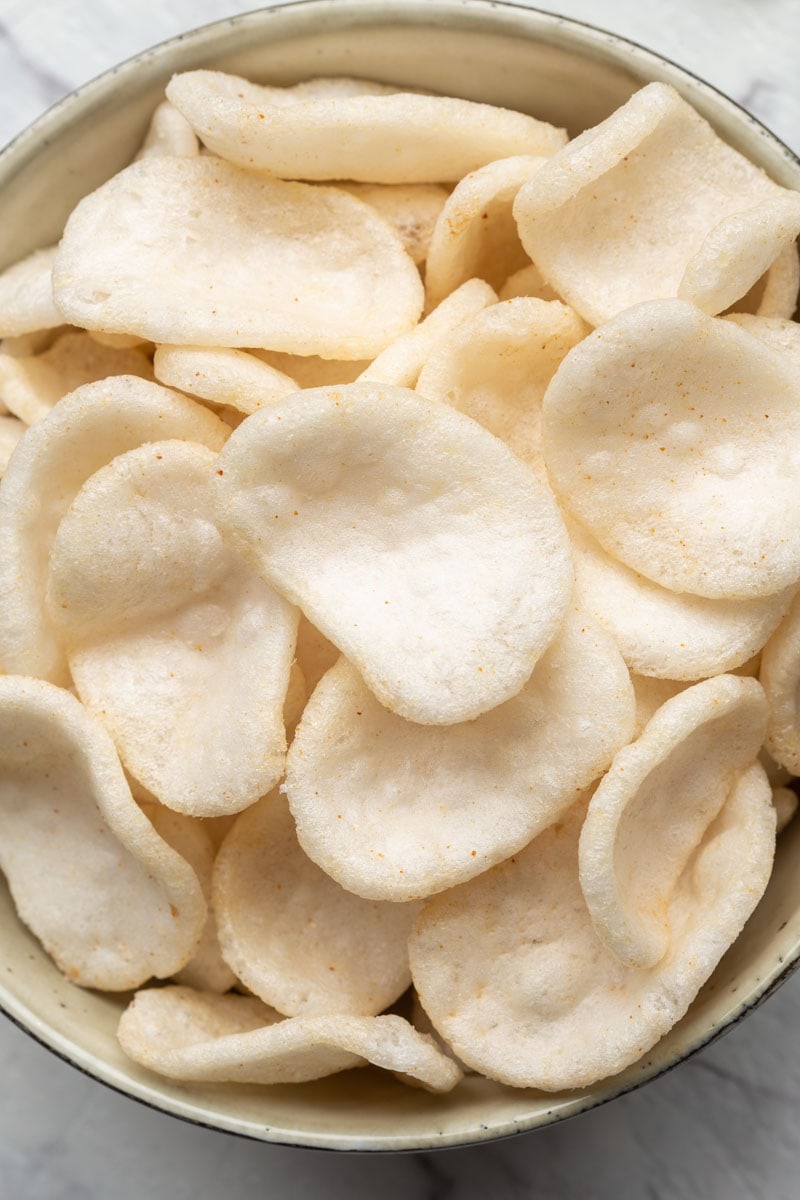 Why are they called shrimp chips? 
You can taste a subtle shrimp flavor while eating these fried chips. The taste of shrimp comes from adding shrimp while making these chips. 
Storage info 
Wondering what's the best way to store leftovers? Here are best practices: 
Up to one week: Place the leftovers in a ziplock bag and store it at room temperature. 
Two weeks or more: Freeze leftovers in a shallow container for up to two months.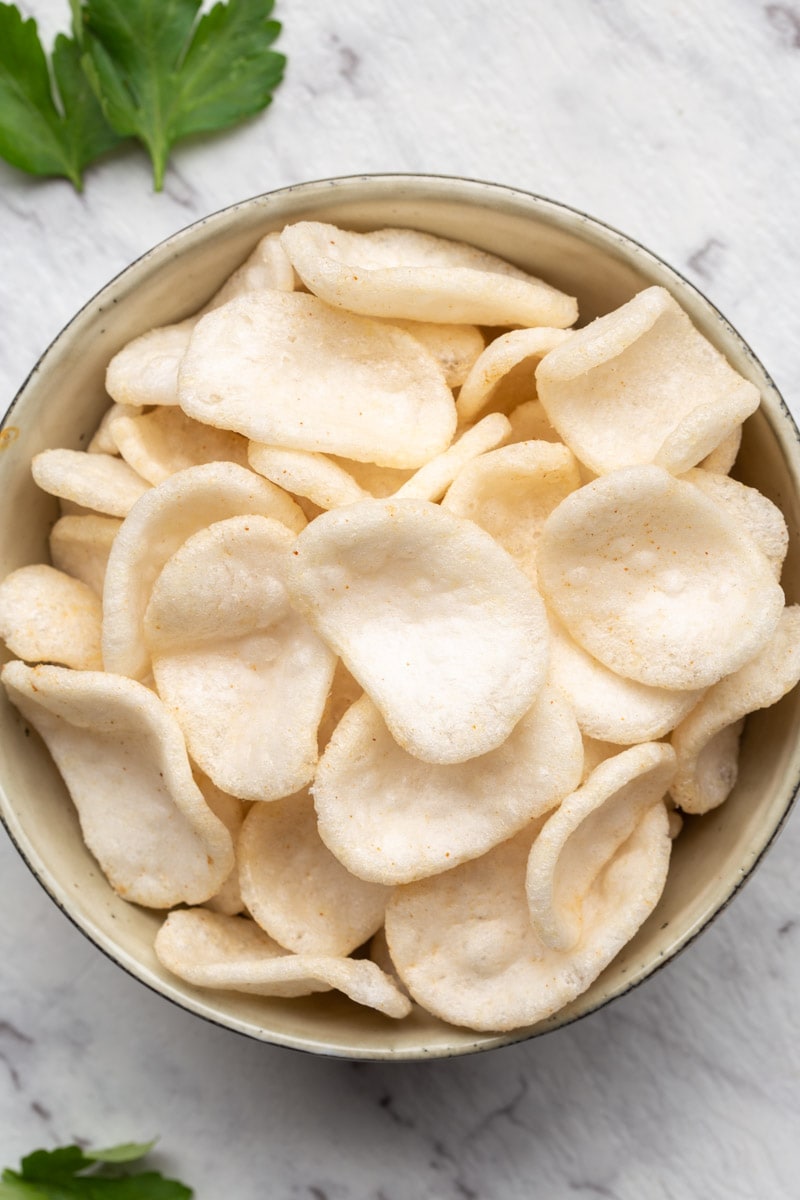 More chip recipes to try
Frequently Asked Questions
Are these healthy? 
Like other deep-fried food items, prawn crackers aren't very healthy. They are fun to eat but loaded with calories and sodium. 
Do these have real shrimp in them? 
Yes, real shrimp is added to the mix before being dehydrated.
Are shrimp chips and prawn crackers the same thing?
Prawn crackers is another name for shrimp chips.
Where do these come from? 
These are popular in many Asian countries, often as an appetizer at restaurants or as a street food snack.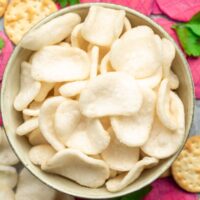 1

package

uncooked shrimp chips

1/4

cup

safflower oil
Add oil to a deep pot.

Once hot, drop a few crackers into the hot oil. Let it fry for 10-15 seconds, before removing from the oil and placing it on a paper towel to soak up excess oil.

Repeat the process until all the shrimp chips are cooked.
TO STORE: Place the leftovers in a ziplock bag and store it at room temperature.  TO FREEZE: Freeze leftovers in a shallow container for up to two months. 
Serving: 1serving | Calories: 120kcal | Carbohydrates: 5g | Protein: 2g | Fat: 14g | NET CARBS: 5g