After enduring losses and uncertainty for months of lockdown, street food vendors around office areas in Kolkata are finally heaving a sigh of relief. Though business is not back to what it was in the "old normal", they are happy to see almost 60% of their regular customers come back. Raju Yadav, who owns a tea shop beside Nazrul Tirtha, Rajarhat, said, "I had inherited this shop from my uncle more than a decade ago. He used to tell me that when times are tough, patience and a cool mind help us navigate through our problems. That is the mantra which saved me from the lockdown blues. After last March, I stayed put for almost 10 months. Finally, some offices and colleges have
reopened and around 60% of my customers have returned." Like Raju, most other street food vendors in office paras have started welcoming back around three-fourth of their pre-Covid clients.
Vendors remain hopeful
Unlike the vendors outside city hotspots and parks, the ones in office areas had to wait longer to see their business gain momentum post unlock. Till June, vendors at Sector V and Rajarhat areas did almost no business, but things started looking up after Vishwakarma Puja. "By then, people were bored of staying home for almost six months of lockdown and gradually started stepping out. Even a few offices began operating from September," said Babai from Chitto Da's shop at Dacres Lane.
More offices reopened after Durga Puja and Diwali with 50% staff strength, giving further hope to the nearby vendors. "Even after resuming office, most people initially avoided street food. However, after mid-December, the number of customers started rising," said Asif Munir, a biryani seller at Sector V.
Asif is now serving more than 60 plates of biryani every day, compared to 100 plates a day before the lockdown. "Out of 100, at least 10 office-goers do come out to eat now. Others either bring their own food or prefer the office canteen," he added.
Samir Mondal, who sells momos in Salt Lake, is hopeful that those figures will further rise when colleges reopen. "Most people are still working from home and taking online classes. But I am sure we will be able to get back to the old figures as more offices and colleges reopen gradually," he said.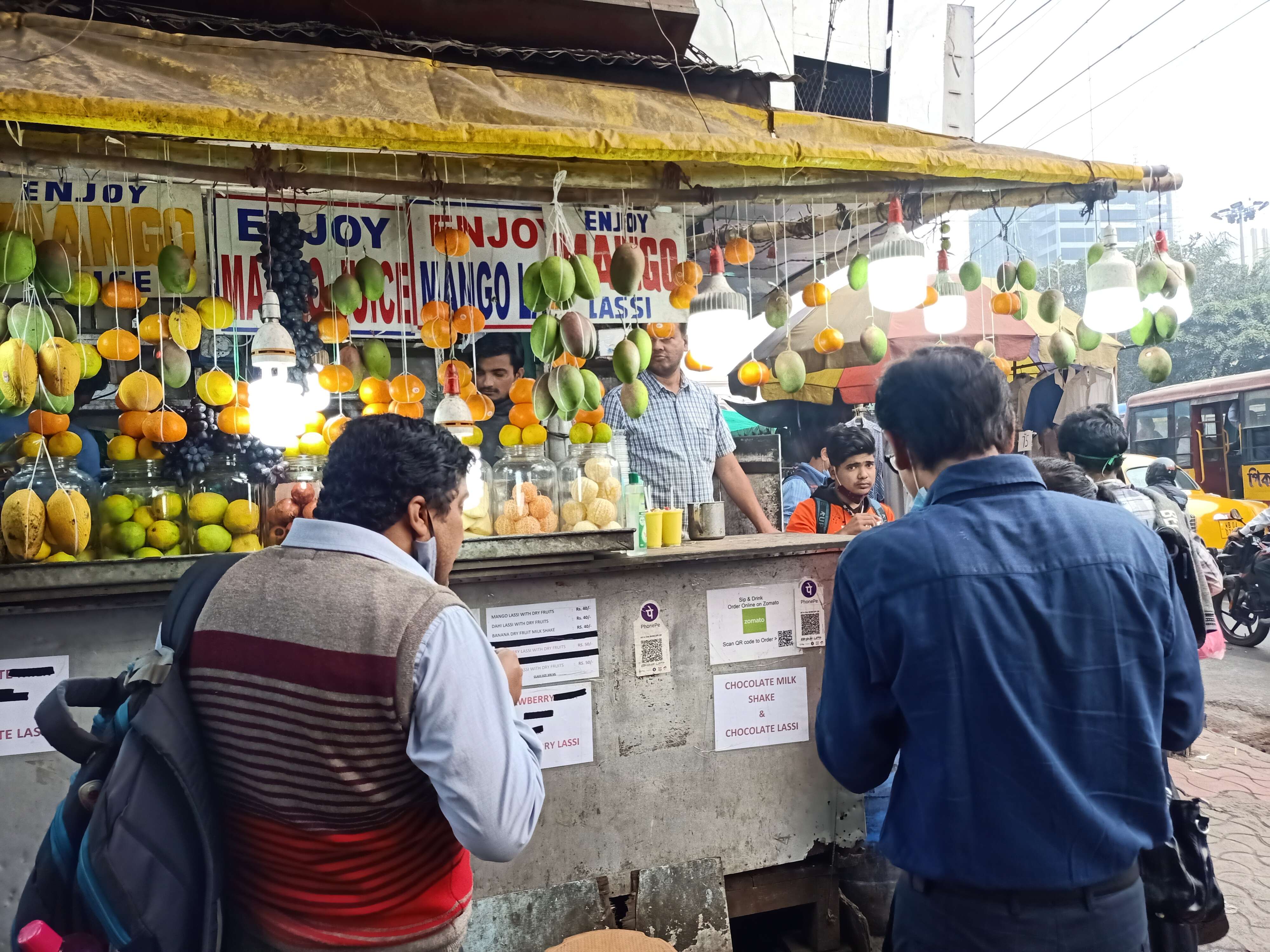 Vaccine news boosts biz
According to the vendors, the buzz about the arrival of the Covid vaccine has also boosted their customers' confidence, leading to better sales. "The pandemic fear is subsiding with the vaccine coming closer. It's true that the demand is still low, but at least now I can see that customers are less sceptical about having my sandwiches," said Md Saddam, who runs a small shop opposite the CESC building in Esplanade.
Abhisekh Surekha, a lassi seller in Esplanade, echoed similar sentiments. Though his sales remained low in the winter months, he is expecting better business soon. "I think by May-June, more people will be vaccinated and things will be much better," he said.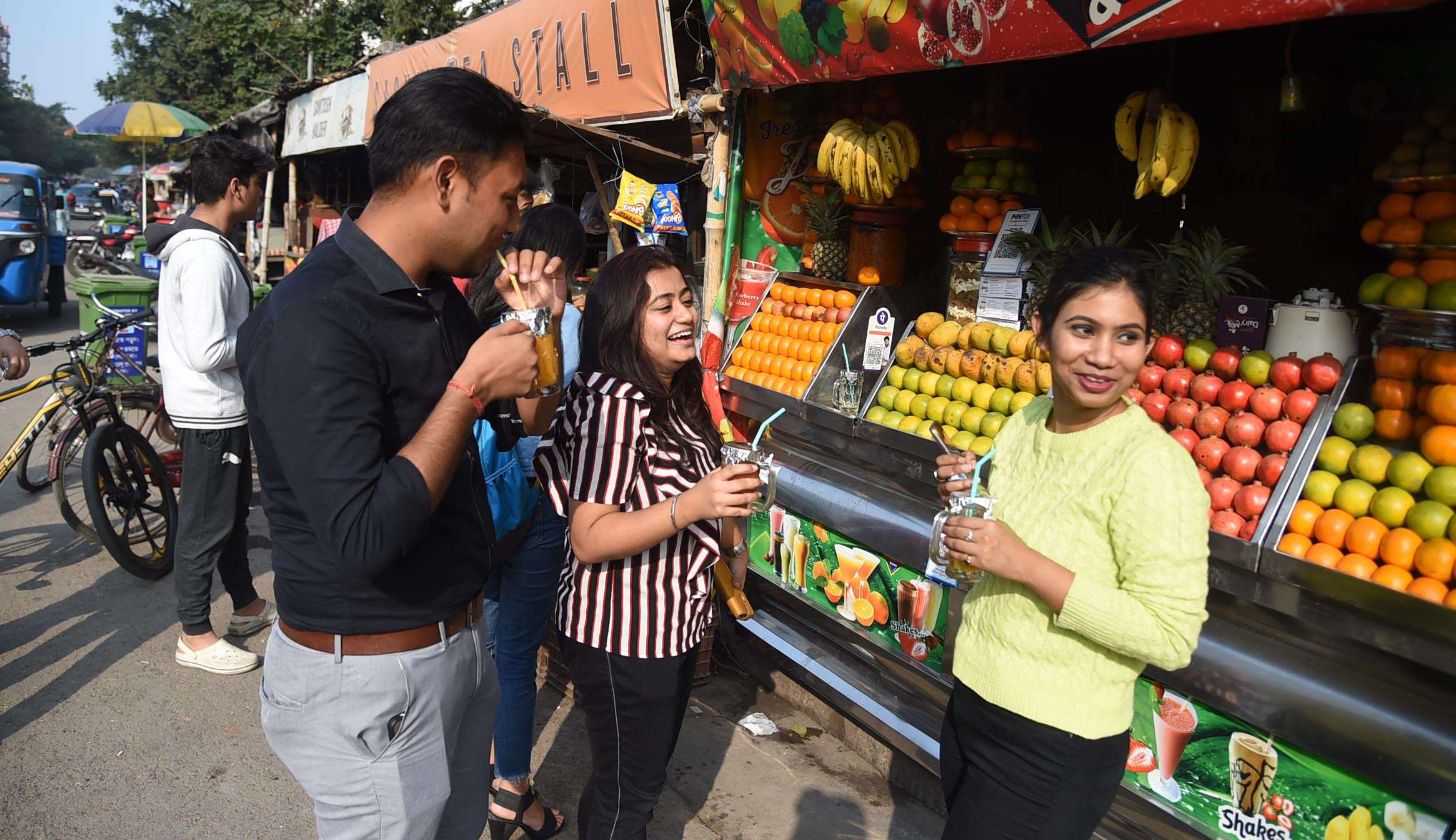 Vendors ensure safety: regulars
Manikant Roy, Satarupa Bose and Baishali Dutta, who work at an e-commerce company in New Town, often grab some fresh juice from a shop near Nazrul Tirtha. When asked what makes them sure about its safety, they said, "It is an adda zone for us and we really missed it. The vendors take proper care and maintain safety measures. We are anyway using public transport and going to the markets, so there is no point living in fear anymore." Ashmita Chakraborty, who visits the library near Nazrul Tirtha to prepare for civil service exams, prefers some tea between classes. "Tea is essential for me during study breaks and the vaccine is already here. Why should I still be worried and stop myself from enjoying a cuppa?" she said.
a chance for Innovation and image makeover
Some street food vendors are trying out innovative ideas to woo customers. While Asif has
started serving gravy with his biryani, Raju is now selling tea in different flavours. Instead of seeing hygiene as an additional burden, they are using it to their advantage. They have realised that
maintaining hygiene standards can go a long
way in improving their image and attracting
more customers.
Suresh Shaw, a juice seller at Rajarhat, thinks that by taking more safety precautions they can attract more customers. "Roadside food is considered the most unhygienic, but we still serve 10 times more people than any big hotel. The pandemic has given us an opportunity to improve our image by ensuring safety and hygiene," he added.