Starbucks Iced Caramel Macchiato is a delightful creamy coffee drink with rich flavor. Save money and make a delicious homemade espresso drink with simple ingredients.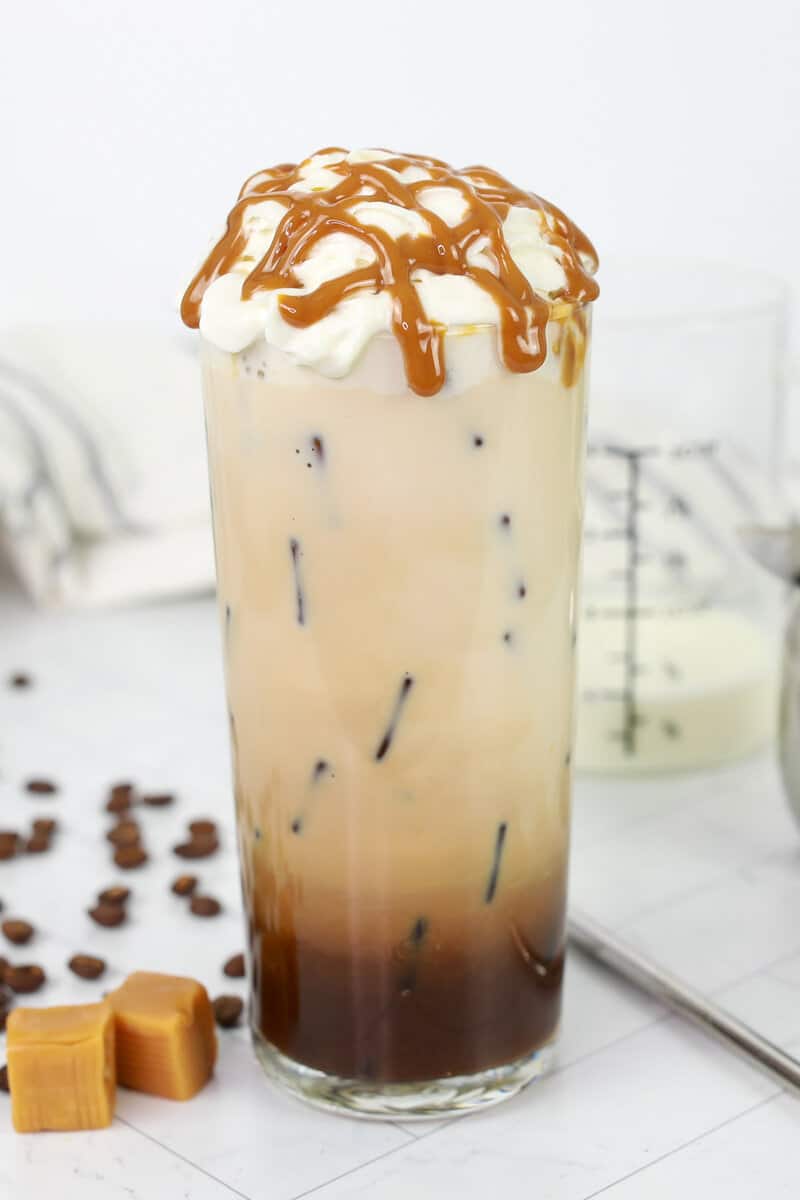 This post contains affiliate links. As an Amazon Associate, I earn from qualifying purchases.
What Is an Iced Caramel Macchiato?
The Iced Caramel Macchiato Starbucks serves is an espresso-based drink flavored with vanilla syrup and caramel sauce. Although the drink resembles an iced latte more closely than a real macchiato, that's no reason to skip it.
Originally intended as a limited special to help celebrate the brand's 25th anniversary in 1996, Iced Caramel Macchiato has remained a favorite menu item at the coffee shop ever since. 
Why the Starbucks Iced Caramel Macchiato Is the Perfect Afternoon Pick Me Up 
One reason for the drink's long-term popularity and being a signature favorite is that it's ideal for anyone who doesn't particularly love the taste of coffee but still wants something to sip that will provide an energy boost. And if that is the goal, then this drink's rich flavors will undoubtedly deliver.
Order an Iced Caramel Macchiato Starbucks Grande, and you will get 34 grams of sugar and 150 mg of caffeine. That is enough of a rush to see you through the busiest day. A venti size has 49 grams of sugar and 225 mg of caffeine which is almost the full recommended daily values of sugar and caffeine.
Iced Caramel Macchiato Ingredients
To make a homemade iced caramel macchiato, you'll need:
Vanilla syrup
Milk
Ice cubes
Cold shots of espresso
Whipped cream
Caramel sauce
No espresso machine? No problem. See below for ideas for suitable substitutions.
Make sure to use a good quality caramel sauce and not a caramel-flavored syrup for this recipe.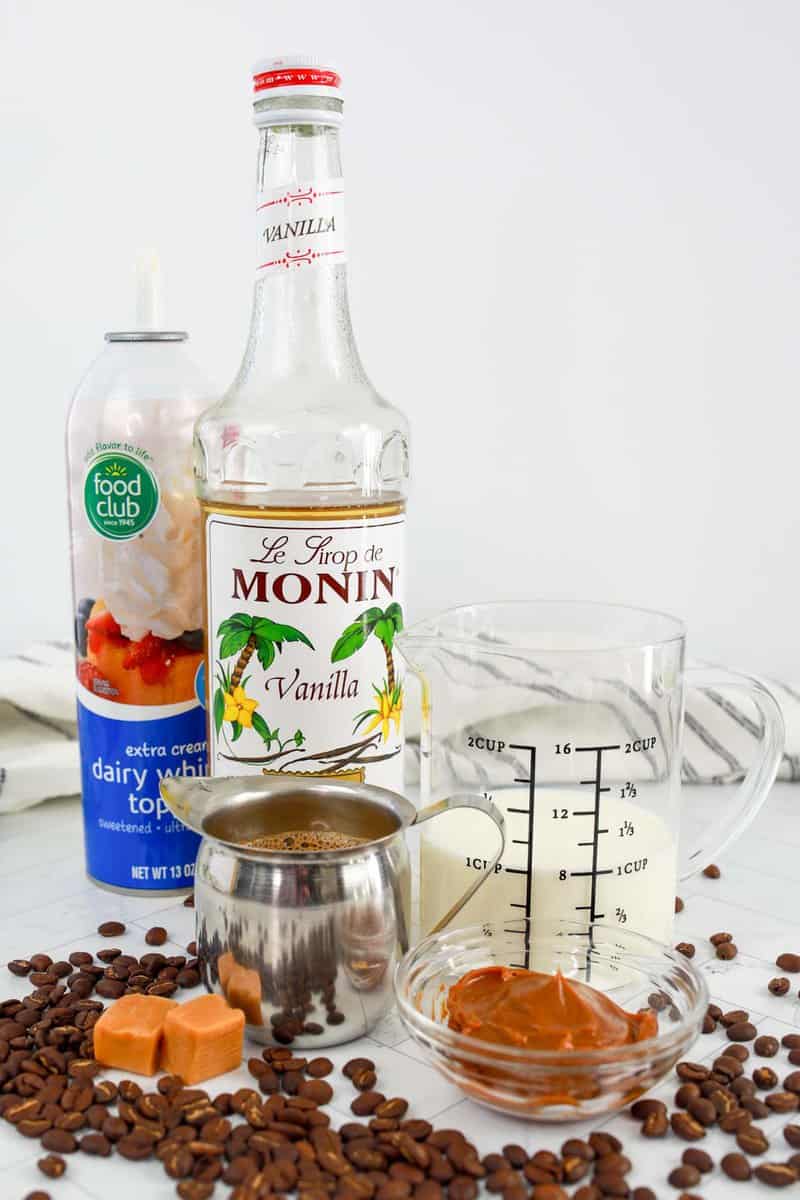 How To Make Espresso Without a Fancy Espresso Maker 
You don't need to be a barista or have an expensive espresso machine to enjoy caramel macchiato iced coffee at home. Try one of the following espresso substitutes.
The easiest option is to use instant espresso powder. In an iced drink recipe like this that has many additional flavors, you probably won't be able to tell the difference at all.
Using Moka-style coffee is also a great alternative. Moka stovetop coffee makers are inexpensive and produce a thicker, more robust coffee than other common brewing methods. 
Your typical coffee brewing method is also an option. Try adding an extra scoop or two of ground coffee for a bit more flavor.
There is also the option to use cold brew coffee. See my thorough article on how to make cold brew coffee.
Whichever brewing method you choose, plan to chill the coffee thoroughly before adding it to the drink. Doing this will prevent the ice from melting and watering down the drink.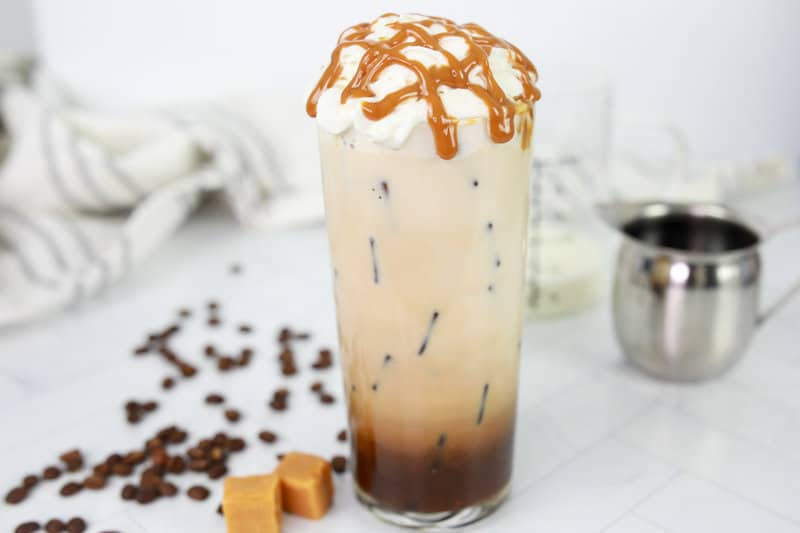 What Kind of Coffee Do You Recommend To Make This Drink? 
Opt for an Italian or French roast if you are not using an espresso machine. These darker roasts offer a lot more flavor than lighter roasts and, despite what you may think, contain less caffeine!
Use bold espresso for maximum flavor.
Do You Really Need to Use the Vanilla Syrup in This Drink?
You need to include the vanilla syrup in a homemade iced caramel macchiato if you want it to taste like the ones they serve at Starbucks. Plain simple syrup will not provide the hint of vanilla in this drink.
However, there is a simple solution for those trying to cut down on sugar. Try a sugar-free vanilla syrup. Jordon's Skinny Syrups Vanilla Flavoring Syrup is a good brand without sugar, calories, and carbs. 
How to Make Iced Caramel Macchiato
Pour vanilla syrup into a glass.
Add cold fresh espresso shots to the glass and stir.
Add ice and milk. Stir to combine.
Top with whipped cream.
Finish the drink with a caramel drizzle in a hatch pattern over the whipped cream.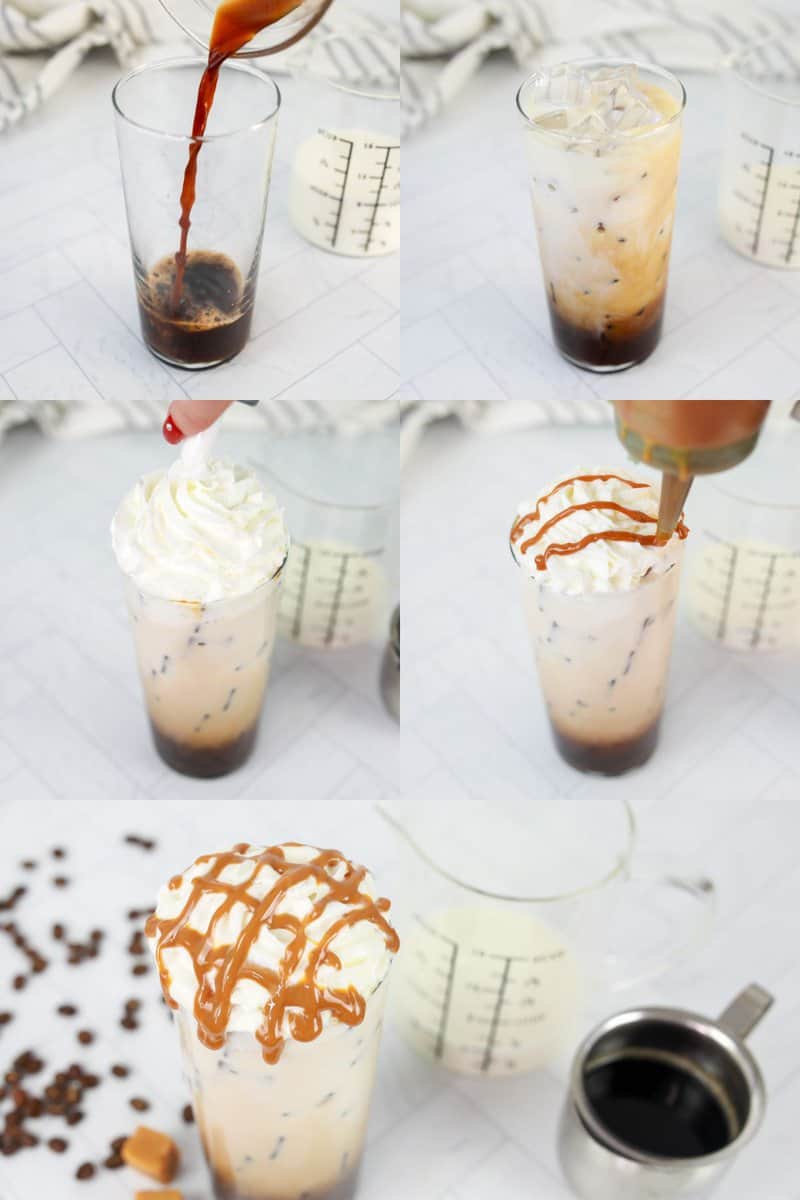 Recipe Variations
Feel free to play with this iced caramel macchiato recipe to make it your own. A few suggestions include:
Change the type of milk in the drink. Try swapping out the whole milk for almond, oat, coconut, reduced-fat, or skim milk.
Skipping the whipped cream and replacing it with foam. You can find inexpensive standalone frothers online. 
What Goes With Iced Caramel Macchiatos 
You don't need to serve anything with a caramel macchiato iced coffee. If you feel a little peckish, go for something that is not too heavy and a bit salty.
Savory dishes like a Quiche Lorraine or a Chicken Croquette will pair exceptionally well.
Favorite Summer Starbucks Drinks
Popular Fast Food Iced Drinks
Check out more of my easy drink recipes and the best copycat Starbucks recipes here on CopyKat!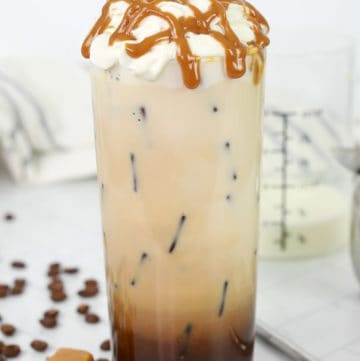 Starbucks Iced Caramel Macchiato
Make a Starbucks Iced Caramel Macchiato at home with this easy copycat recipe.
Print
Pin
Rate
Add to Collection Go to Collections
Servings: 1
Calories: 242kcal
Ingredients
1

tablespoon

vanilla syrup

1.5

ounces

espresso

1

cup

ice cubes

1

cup

2% milk

2

tablespoons

whipped cream

1

tablespoon

caramel sauce
Instructions
Pour vanilla syrup in a glass.

Add espresso to the glass and stir.

Add ice and milk. Stir to combine.

Top with whipped cream.

Drizzle caramel syrup on top of the whipped cream.
Nutrition
Calories: 242kcal | Carbohydrates: 39g | Protein: 8g | Fat: 7g | Saturated Fat: 4g | Polyunsaturated Fat: 1g | Monounsaturated Fat: 2g | Trans Fat: 1g | Cholesterol: 26mg | Sodium: 209mg | Potassium: 418mg | Sugar: 39g | Vitamin A: 320IU | Vitamin C: 1mg | Calcium: 313mg | Iron: 1mg