Learn how to make mulitas, a crispy tortilla sandwich filled with carne asada steak and plenty of shredded cheese. Ready in less than 10 minutes.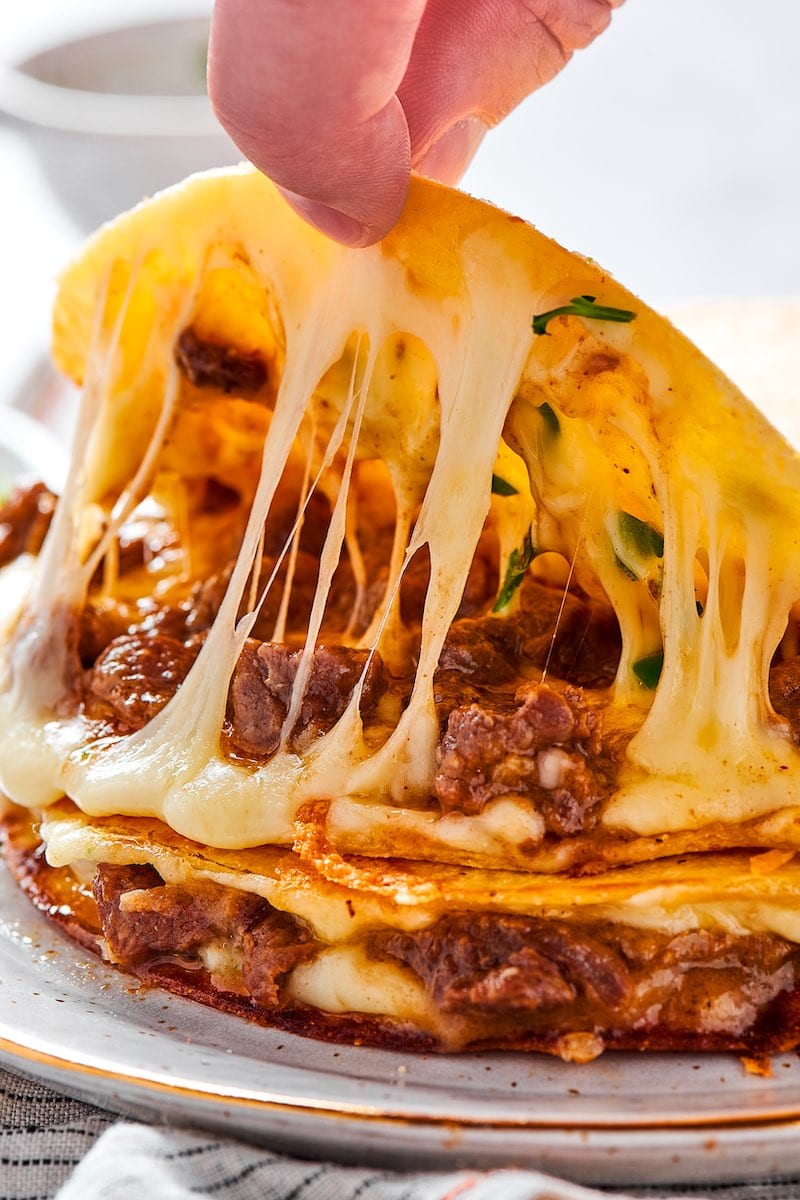 The Best Mulitas Recipe
Do you love Mexican food? 
Recently, we've been obsessed with a recent sensation, quesabirria tacos. We thought they were the GOAT, However, if you haven't tried the viral Mulita, you haven't lived! Also known as mulitas de birria. 
What are mulitas?
Mulitas are 'sandwich tacos' that originated in Mexico but are now popular worldwide.
Often referred to as a Mexican grilled cheese, it's made with two tortillas, one on the bottom and the other on the top, filled with cheese, meat, salsa, and some customized fillings too.
Mulitas use corn tortillas in the original dish, but if you want to use corn or flour tortillas, it's up to you!
Why this recipe works

 
Easy to make. No hard steps to follow; just simple ingredients and instructions make it an easy-to-prepare meal.
Easy customization. You can use flour tortillas, chicken instead of beef, your own favorite toppings, etc., which makes customization easy.
Healthy. All the main food groups are hit for a satisfying meal.
Ingredients needed

 
Beef steak. Flank or skirt steak is preferred, as they cook quickly and tastes delicious. Ground beef also works, but try to choose a leaner cut. 
Onion and garlic. Finely chopped. 
Corn tortillas. The authentic tortilla to use. If you can't find corn ones, flour tortillas will work. 
Cheese. We like using a Mexican shredded cheese blend (a mix of Jack and cheddar cheese) but any strong flavored cheese that melts work well. 
Avocado. Either sliced or made into a guacamole. 
Tomatoes. Finely chopped. 
Salt and pepper. to taste. 
Parsley. To serve. 
How to make a mulita?

 
Simple is an understatement when it comes to this recipe.
To make these Mexican mulitas, all you need to do is make the filling, cook it up and serve: that is it!
Step 1- Make the meat filling
Start with seasoning the beef with salt and pepper. Put a skillet on medium-high heat and add some olive oil. Add chopped onions, and saute for 3-4 minutes before adding meat. Cook the meat until it's no longer pink. Once done, put the cooked meat in a bowl and cover it with tinfoil to prevent it from drying out. 
Step 2- Prepare the avocado
Next, prepare the avocado by making it into a guacamole or mashing it with olive oil, salt, pepper, and lemon juice. 
Step 3- Cook the Mulita
Now, place a pan or skillet over medium-high heat, add some oil to heat the tortilla. Add a layer of cheese and then meat, a little parsley and add more cheese and cover with another tortilla. Brush the tortilla on top with oil. When the cheese melts, flip to cook the other side too. Gently press the tortillas to stick them with cheese and meat. Keep flipping and cooking until all the cheese melts. 
Step 4- Add the fillings and assemble
To serve mulitas, gently lift one side of the tortilla and add the guacamole, diced tomatoes, and optional Jalapenos.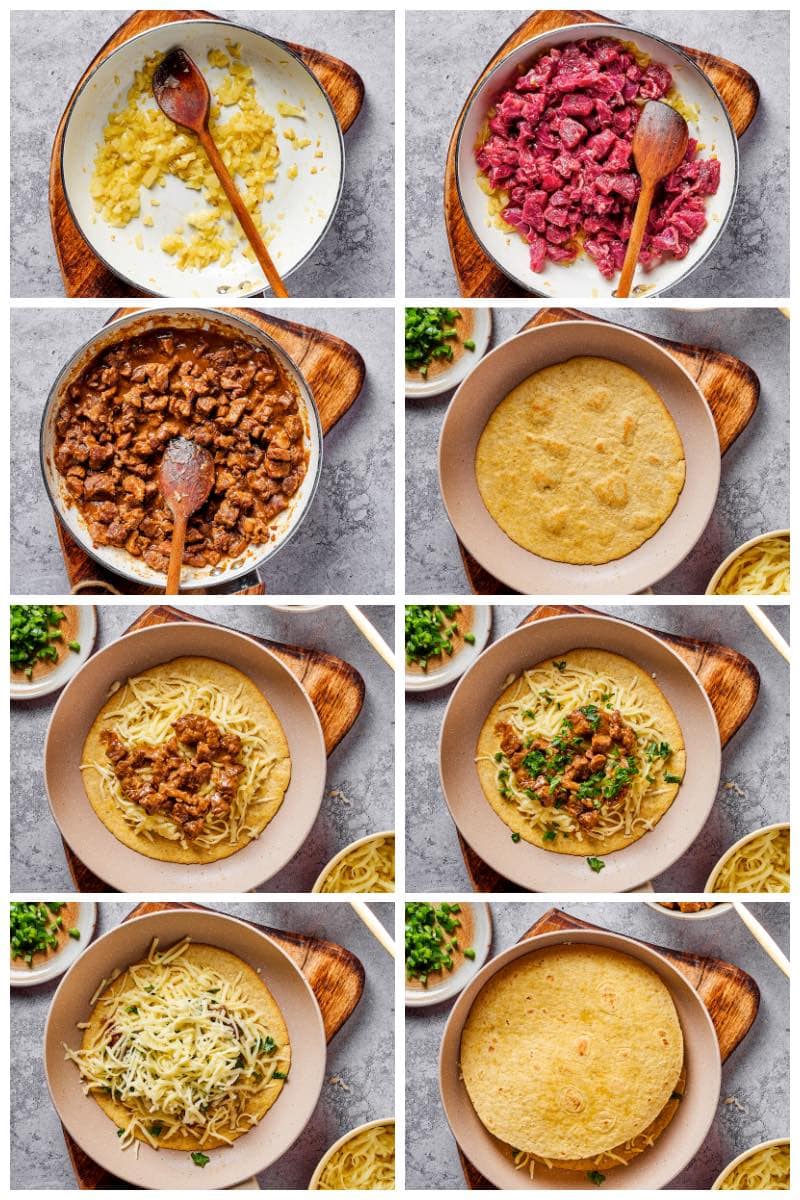 How to make mulita tacos
If you want a variation on the classic, use the fillings in soft or hard taco shells instead. Here's how to make it: 
Prepare the meat mixture as instructed.
Add a portion onto a soft taco shell, add the cheese, then place a second on top. Lightly pan fry until golden. 
Gently lift one taco and spread some avocado in it and a sprinkle of tomatoes. 
Serve with sour cream and salsa. 
Tips for success

 
Here are some expert tips to make the best mulitas: 
If you use ground beef or fattier cuts of beef, remove the excess liquid before adding them to the tortillas or else they risk becoming soggy. 
Choose larger corn tortillas so you have more room to add fillings and there is less risk of them breaking. 
Do not add the avocado or tomatoes until the mulita are fully cooked. 
What other protein can be used in mulitas?

 
Change up the meat filling by using other protein sources. It's so versatile and you can use 
Chicken: Sliced chicken breast or chicken thigh pieces. 
Lamb strips: Lamb back strap or pre-sliced lamb works well. 
Firm tofu: For a vegetarian twist, use form tofu cubes. 
Firm fish: Mahi mahi, red snapper, and grouper are all fantastic options. 
Storage info
Mulita is something that must be enjoyed freshly made, or else you risk the tortillas being soggy and the avocado mix being rancid. However, you can prepare the carne asada steak in advance and store it to use later. 
Up to three days: Store leftover steak in a sealable container in the refrigerator. 
To freeze: Place the cooked and cooled steak in an airtight container and store it in the freezer for up to 6 months. Thaw the steak completely before assembling the mulitas. 
FAQS about these Mulitas
What is the difference between a mulita and a quesadilla?
Quesadillas use one tortilla folded in half filled with cheese, fajita vegetables, and some form of protein. Mulitas, however, use two tortillas and focus on a meat filling, usually flank steak or ground beef.
Another major difference is the type of tortilla used. Quesadillas typically use flour tortillas whereas Mulita often use corn tortillas. 
What cheese is best?
Any shredded cheese that melts well is best for mulitas: cheddar cheese, Mexican cheese blend, or Colby Jack.
When possible, always shred your own cheese.
Can I use flour tortillas?
Corn tortillas are most authentic, but you can use flour tortillas if that is all you have on hand.
Where to find the best Mulitas in LA?
Based on Yelp reviews and social media statistics, the best Mulitas in Los Angeles are found at:
Leo's Tacos Truck
Tacos Zone
Tire Shop Taqueria
Pablito's Tacos
Pepe's Red Tacos

More Mexican recipes to try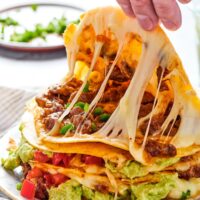 1

lb

flank steak

or skirt steak

1/2

teaspoon

salt

1/2

teaspoon

pepper

1

tablespoon

olive oil

1

clove

garlic

minced

1/2

large

onion

sliced

2

cups

cheese

shredded

1

cup

guacamole

or 2 avocados, mashed

2

large

tomatoes

chopped

1

bunch

parsley

chopped

8

medium

corn tortillas

2

fresh

jalapenos

diced
Season your sliced steak with salt and pepper.

In a non-stick pan, add the olive oil. Once hot, add the onion and garlic and cook for a minute. Add the sliced steak and cook for 4-5 minutes, until no longer pink.

Remove the meat off the heat and cover, to let it remain juicy and tender.

Clean the pan and place it back over medium heat. Place one corn tortilla on top, followed by some cheese, and some sliced steak. Add a little extra cheese and top with another corn tortilla.

Cook the tortilla for 1-2 minutes, until the cheese starts to melt. Carefully flip the tortilla to another side and cook until the cheese has completely melted and the edges are crispy.

Remove the mulita off the heat. Carefully lift up one tortilla and add some guacamole, diced tomatoes, parsley and jalapenos.
Assembled mulitas need to be enjoyed fresh. You can, however, prepare the steak in advance: 
Up to three days: Store leftover steak in a sealable container in the refrigerator. 
To freeze: Place the cooked and cooled steak in an airtight container and store it in the freezer for up to 6 months. Thaw the steak completely before assembling the mulitas. 
Serving: 1Mulita | Calories: 382kcal | Carbohydrates: 35g | Protein: 30g | Fat: 17g | Sodium: 392mg | Potassium: 1115mg | Fiber: 9g | Vitamin A: 2053IU | Vitamin C: 39mg | Calcium: 109mg | Iron: 4mg | NET CARBS: 26g