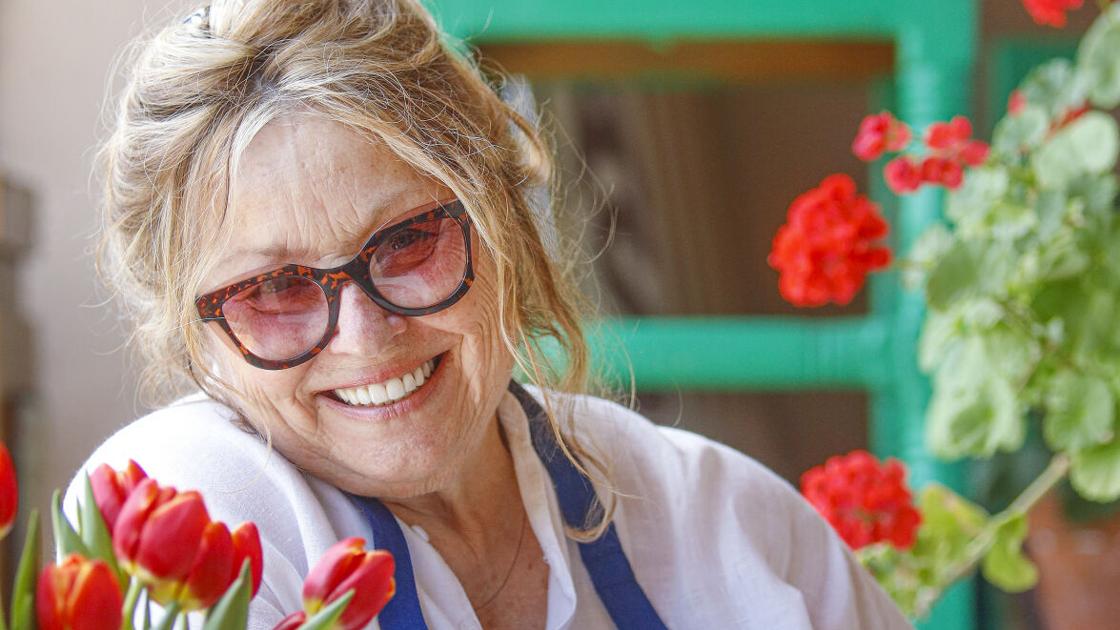 'Eating is the major sport of having a body': Cafe Pasqual's Katharine Kagel | Restaurants
The turquoise door at Café Pasqual's is something of a beacon, luring diners to the intimate, split-level space on the corner of Don Gaspar Avenue and Water Street. For many visitors, Pasqual's is the first restaurant they really notice when they make it to downtown Santa Fe — thanks to the brightly painted door and the atmosphere of conviviality that shines through the picture windows. On weekend mornings, the brunch crowd spilling onto the sidewalk is all the advertising that's needed to keep the tables filled.
Inside, colorful flags and papier-mâché sculptures by Rick Phelps hang from the high ceiling. There are chile ristras strung with lights, and knickknacks galore. The paper menus match the flags and tempt with a busy array of options from around the world — Sardinian salad, Oaxacan tamal, Thai green curry served in a young coconut bowl.
Katharine Kagel opened Café Pasqual's in 1979, not long after moving to town. She grew up in California and came of age in the late 1960s, living in Hawaii, Japan, Michigan, and Colorado when she was in her 20s. Pasqual's is the only restaurant Kagel has ever owned or even worked in. Her formative training began when she was about two years old, helping her mother cook for family parties. She catered Chinese food in Santa Fe before opening Pasqual's, which serves a fusion of Mexican, New Mexican, and Asian cuisines — and whatever else Kagel feels like throwing onto the menu. Specials change daily, but some things stay for years, like the mole enchiladas and the Yucatán cochinita pibil (a slow-roasted pork dish).
"We make whatever we feel like. Sometimes it's Italian. We wander off," Kagel says. "There's a fusion, but it's not a gastro-fusion of running two things together at high speed. Our vision and mission have always been the same: Highest-quality food, most delicious, friendly atmosphere, excellent service, joyfully served." She emphasizes that everything at Pasqual's is organic, even the wine. "I don't like anything that has the '-cide' in it. Pesticide. Herbicide. It means something's dying."
Kagel is the author of Café Pasqual's Cookbook: Spirited Recipes from Santa Fe (1993), and Cooking with Café Pasqual's: Recipes from Santa Fe's Renowned Corner Café (2006). She also operates a website (pasquals.com), where you can order Pasqual's coffee, cookies, and granola, among other items, as well as cookware, cookbooks, and art.
Kagel talked to Pasatiempo about her history with food and Café Pasqual's long life.
Pasatiempo: Tell me about getting started in Santa Fe. What led you to open Pasqual's?
Katharine Kagel: About a month after I moved here, I still didn't know anyone, but my housemates did. I got them to invite 12 people over, and I made 13 dishes, in the style of a banquet in China. Always one more dish than people. Boom. Somebody at the table said I should cater. I woke up the next morning, got a tax ID number, and phoned environmental health. They came the next day and approved the kitchen. The next day, the phone rang. [A colleague of someone who'd been at the dinner party] wanted me to cater for a party of 20 restaurateurs. After that, I got a party out of every party.
Two people told me to open a restaurant on this corner. The first was my friend, B.C. Caldwell, who hosts Blue Monday on KSFR [101.1 FM]. The other was Theo Raven, the original owner of Doodlet's. I gave her my catering card, and she said, "See that restaurant across the street? Go buy it." That was the second person, so I went charging across the street to see if it was for sale. Now, it's 42 years later.
Pasa: Where did you learn Chinese cooking?
K.K.: Before I moved to Santa Fe, [my ex-husband] was getting a Ph.D. in art history, and we socialized with Chinese scholars. Every weekend, couples would bring a wok filled with their ingredients. I hung out in the kitchen and learned how to make everything. I would spend the next day replicating the recipes, trying to create that neural pathway.
Pasa: Is that your only culinary training?
K.K.: My mother's father is trained as a butcher. He opened his own grocery store in Sacramento, California. He serviced all of the restaurants. My father's side had a produce stall in a market in Oakland. My parents loved to entertain. I grew up making 100 meals a weekend. My father built a cabin with a full basketball court, and he played basketball there every weekend. We were feeding 20 to 30 people at every meal. Everything was packed in and taken up there. My mother used to poach eggs and put them in a jar, suspended in water, and then take them out and serve them with Canadian bacon and English muffins. I was in charge of salads, sandwiches, and desserts.
And one winter in Colorado, I was so bored, I made every recipe in the [Boston Cooking-School Cook Book by] Fannie Farmer. I was so upset with how that was written. The thing about food is that it engages all your senses. You need technique. What does it sound like five minutes before it's ready? Is it sizzling? What does it look like? I always thought if I ever wrote a cookbook, I'd want to engage the cook in what to expect, so there are no surprises.
Pasa: In the Café Pasqual's cookbooks, you instruct on details that are often missing, like knife skills and the temperatures that the ingredients should be. Are these the kind of cookbooks that you can turn to spontaneously for a nice meal, or do you have to plan ahead?
K.K.: There are pantry lists in the front of the cookbook so you can be ready to go if you want to spontaneously make things, but the thing to know about Mexican cooking is that everything is cooked twice. Those meats can marinate overnight. Mexican cooking is very long and intense, but you can make a batch of chorizo with pork or tofu and freeze it into portions. You can have it for a long time. When you do a big cook, you can see the future.
Pasa: Where do you get your produce?
K.K.: We have local growers. The squash blossoms are coming. Can you hear them?
Pasa: All the chefs have been telling me about squash blossoms lately! It's clearly a very exciting time. Your menu is somewhat down-home for typical City Different fine dining. Do you consider yourself part of that landscape?
K.K.: We're casual fine dining. We don't care how you're dressed. If you've been walking around Taos all day, or you're heading to the opera.
Pasa: Do you cater primarily to tourists?
K.K.: Our visitors come back, and back, and back. They become friends. Then they buy a house. And then they retire and move here, and we get to see them every day. We're on second- and third-generation tourists. Now grandkids are getting married and bringing their kids. I don't care if they're [tourists or locals], as long as they're hungry, and we can make them feel good. When a meal is really good, people start talking about the last great meal they had or someplace they're looking forward to going the next time they travel somewhere. Eating is really the major sport of having a body. This is what people do when they get together. We have to really nourish and have a wonderful time at the same time.
Pasa: I'm especially fond of your desserts. I've come in just for flan.
K.K.: There are no foams, no architecture in our desserts. You're not stuck with strange combinations. We like a strawberry rhubarb pie, a fresh peach pie. We do it a million flavors of flan — passionfruit, lemon, tangerine. That's comfort food.
Pasa: You're also famous for brunch. You have the usual breakfast burritos and pancakes, and then you have some interesting twists, like smoked trout hash and huevos moltulenos. Where do those dishes come from?
K.K.: We have staff members from Mexico, from El Salvador, from wherever, and I am always pestering people. So, you had a family reunion? What did you have? You went out to dinner? What did you have? I love to hear people's stories about their grandmother's pupusas. My grandmother made the best blintzes, so we have blintzes on the menu. The moltulenos are from the Yucatán. It's common to have ham with it, but we usually keep it vegetarian. It has feta, which down there would probably be cotija. Before we could get that here, we used feta. It stayed because it's salty. You have heat from the chile sauce, sweetness from the fried banana — served with black beans and tortillas. It's this wonderful pile of mishigas. ◀