Chicken Souvlaki is a savory kabob infused with Greek flavors. With marinated chicken, onions, and peppers, it's hearty and delicious.
Greek cuisine has such a unique flavor profile! If you enjoy it, you might want to check out Greek Pasta Sala, Greek Bruschetta, or Greek Cucumber Cups!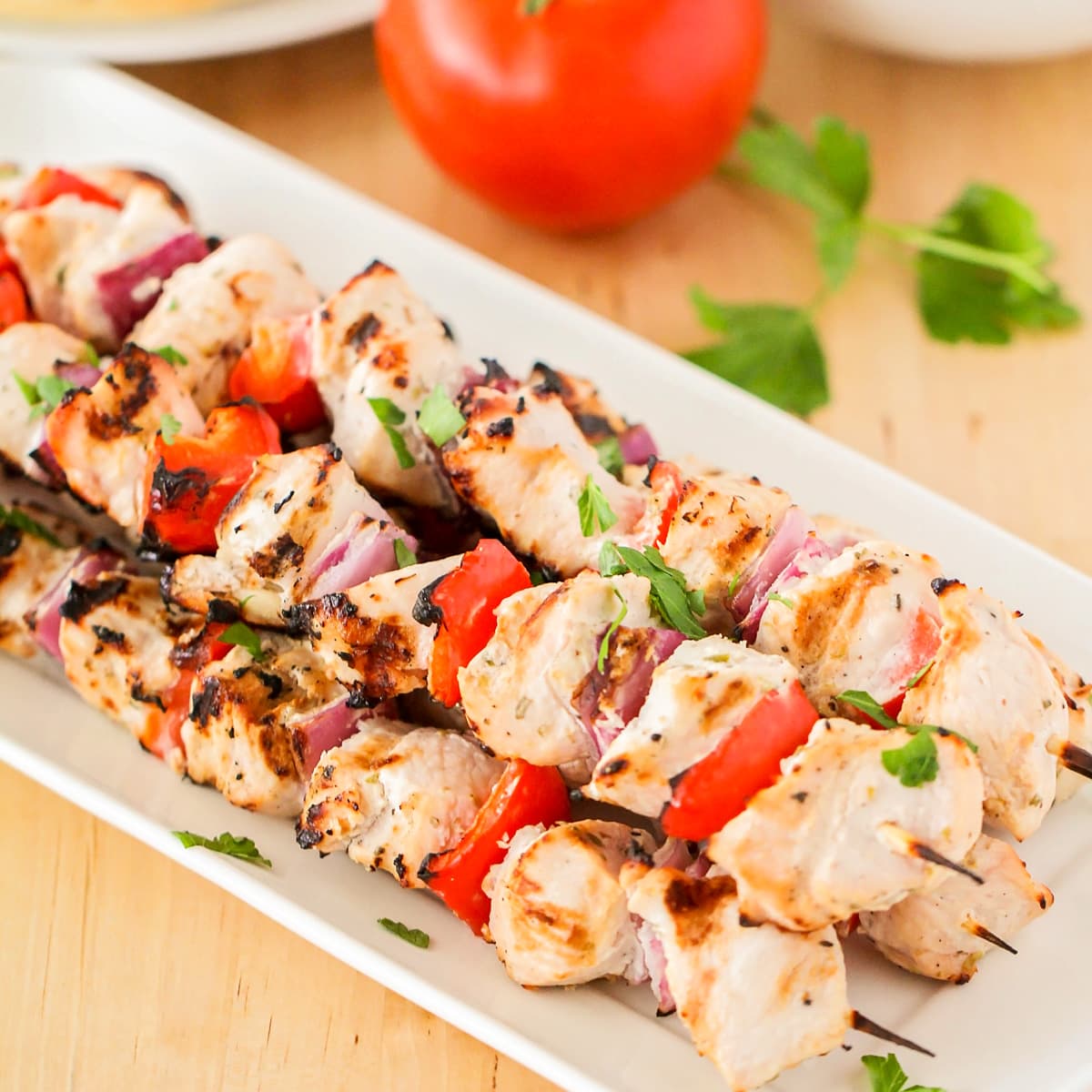 What is Chicken Souvlaki?
I have the yummiest chicken recipe to share with you today!
This easy chicken souvlaki recipe is one of my family's favorite meals. It's delicious, easy to make, and always brings a smile to my picky eater's face. It's ready in about an hour, and is the perfect easy weeknight dinner.
You might be wondering what on earth chicken souvlaki is?! Souvlaki is a popular Greek fast food consisting of small pieces of meat, and sometimes vegetables, grilled on a skewer.
It's one of my favorite Greek dishes that I used to get at one of our favorite Greek drive thru restaurants. But since we recently moved, I've been needing to find a recipe that I could make at home!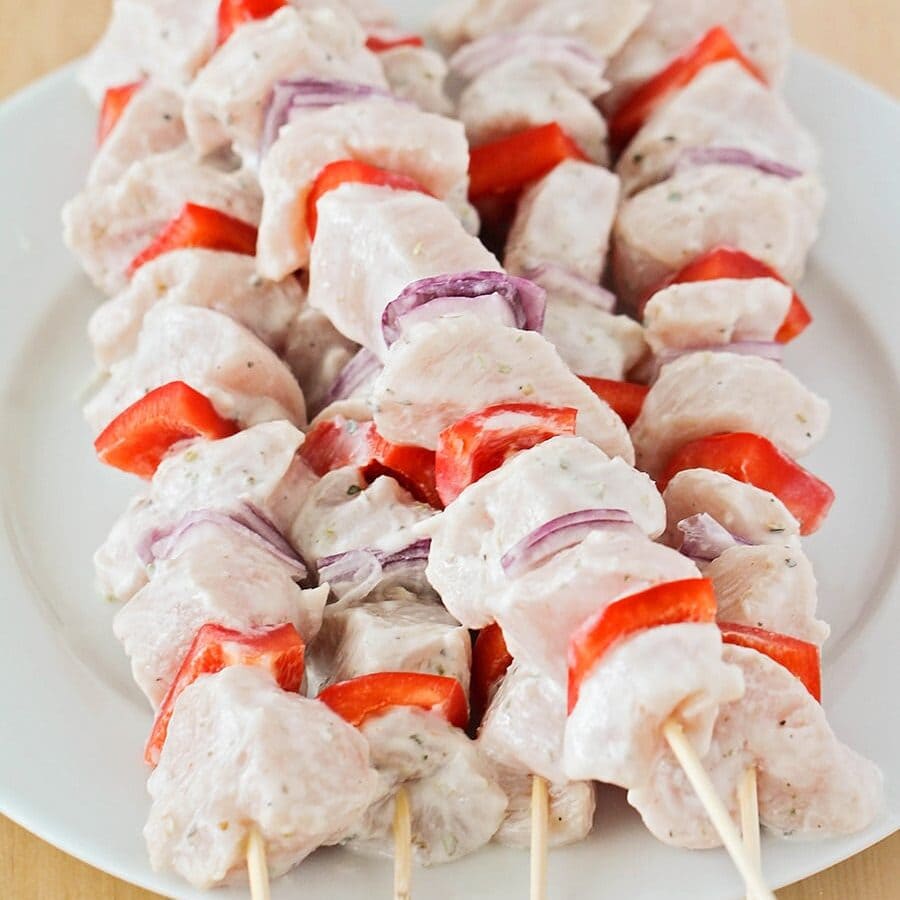 How to Make Chicken Souvlaki
MARINATE. To make it, I started by marinating my chicken in a simple yogurt and lemon marinade, then threading it onto skewers with chunks of red pepper and red onion.
GRILL. My husband loves any excuse to use his grill, so we grilled ours for 6-8 minutes per side. You can also use a grill pan.
SERVE. You can eat it on its own straight off the skewer, but my favorite way to eat the souvlaki is in a warm pita bread with tzatziki and sliced tomatoes.
If you haven't had tzatziki sauce before, it's a cucumber garlic yogurt sauce, and totally yummy. I've found it at Trader Joe's and other grocery stores in the deli section, or you can easily make your own.
In the Oven
If you don't have a grill (or don't want to stand out in the cold waiting for your skewers to cook), you could also easily bake these skewers in the oven.
I like to line a baking sheet with foil, then place a cooling rack on top of it, and the chicken on top of the rack. It helps the air to circulate better around the chicken as it cooks, and gives it a texture that's similar to grilling.
Variations
Skewers:

If you able to I suggest investing in stainless steel skewers. They can be found at a home goods store, or online. They can be washed and reused for multiple kabob recipes. However, you can also buy a package of wooden bamboo skewers at the market. Once they have been used you'll need to toss them. 

Use Beef

:

You can use beef for this recipe. Simply find your favorite cut of beef and cut into small chunks and marinate just like the chicken, maybe even longer for the flavor to really get into the meat.

Other veggies:

Zucchini or any type of bell pepper would be great additions.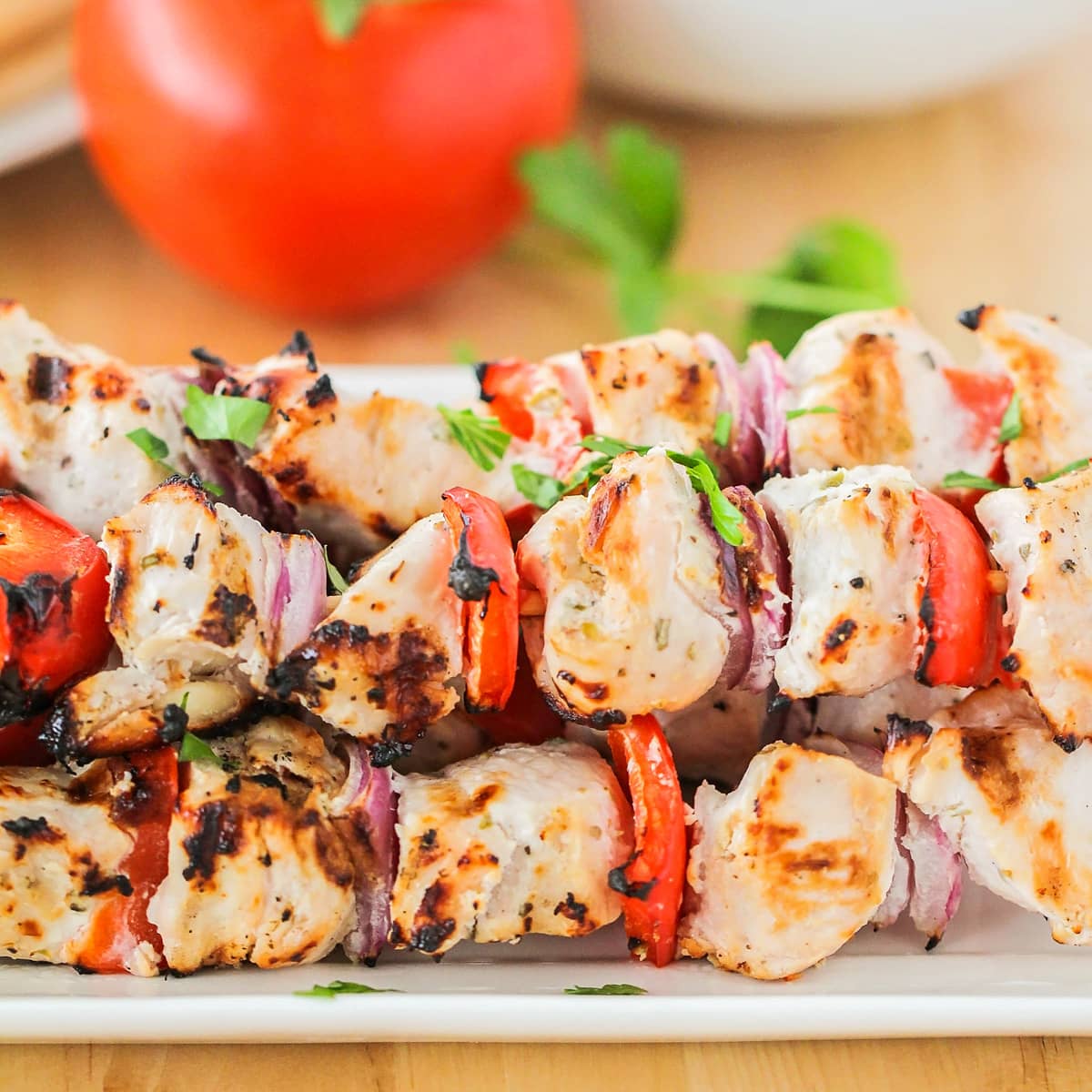 Making Ahead & Storing
Make Ahead: Marinade the chicken anywhere from 30 minutes-overnight. If you want to make it ahead of time just let the chicken chunks sit in the marinade longer than dictated in the recipe. Once you're ready to complete the recipe skewer the chicken bites and grill or bake.
To STORE leftovers, place the cooked chicken in an airtight container or Ziploc bag.
The goal when REHEATING it is to keep as much moisture in it as possible. The trick is low heat and time. Turn the power down on the microwave and cook until warm. If you're using the oven, wrap the meat in foil and reheat at around 200-250 degrees.
The yogurt marinade makes the chicken so flavorful and tender, and it's delicious in combination with the onions and peppers. This easy chicken souvlaki is always a favorite for dinner at our house!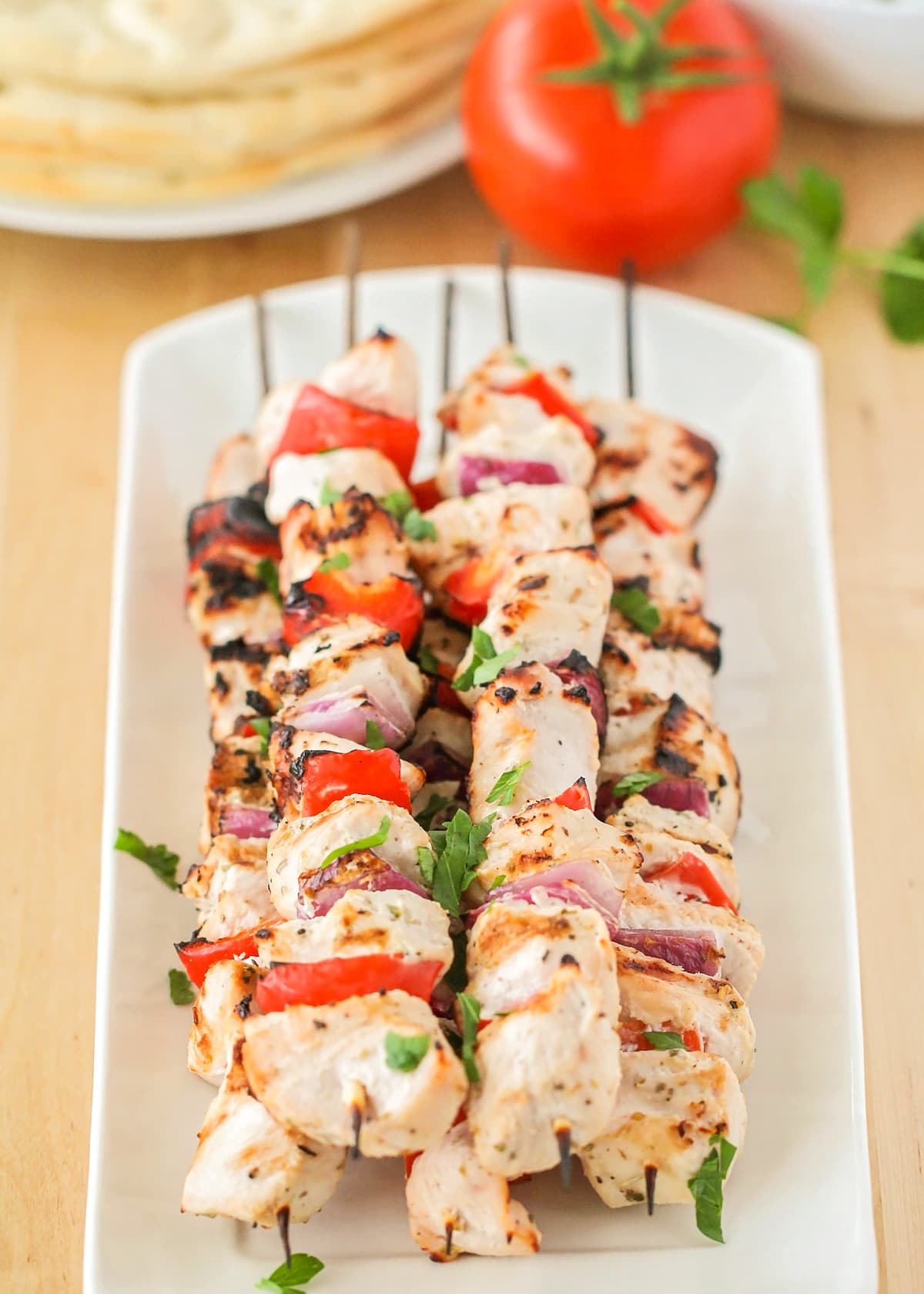 For more kabobs and skewers, check out:
In a small bowl, mix together the greek yogurt, lemon juice, oregano, garlic powder, salt, and pepper. Add the chicken chunks to a ziplock bag and pour the yogurt mixture over the top. Seal the bag and toss to coat. Refrigerate for thirty minutes.

Thread the marinated chicken chunks onto skewers, alternating with chunks of red pepper and red onion.

Grill on medium high heat for 6 to 8 minutes per side, until juices run clear. Alternatively, line a baking sheet with foil and place a cooling rack on top. Place the skewers on the cooling rack, and bake at 425 for 25-30 minutes.