This easy butternut squash soup is unbelievably creamy, satisfying, and so flavorful. It's also very simple to make, delicious when made in advance, and naturally vegan. That's right, no cream or butter is needed to make this dreamy, creamy soup. Jump to the Roasted Butternut Squash Soup Recipe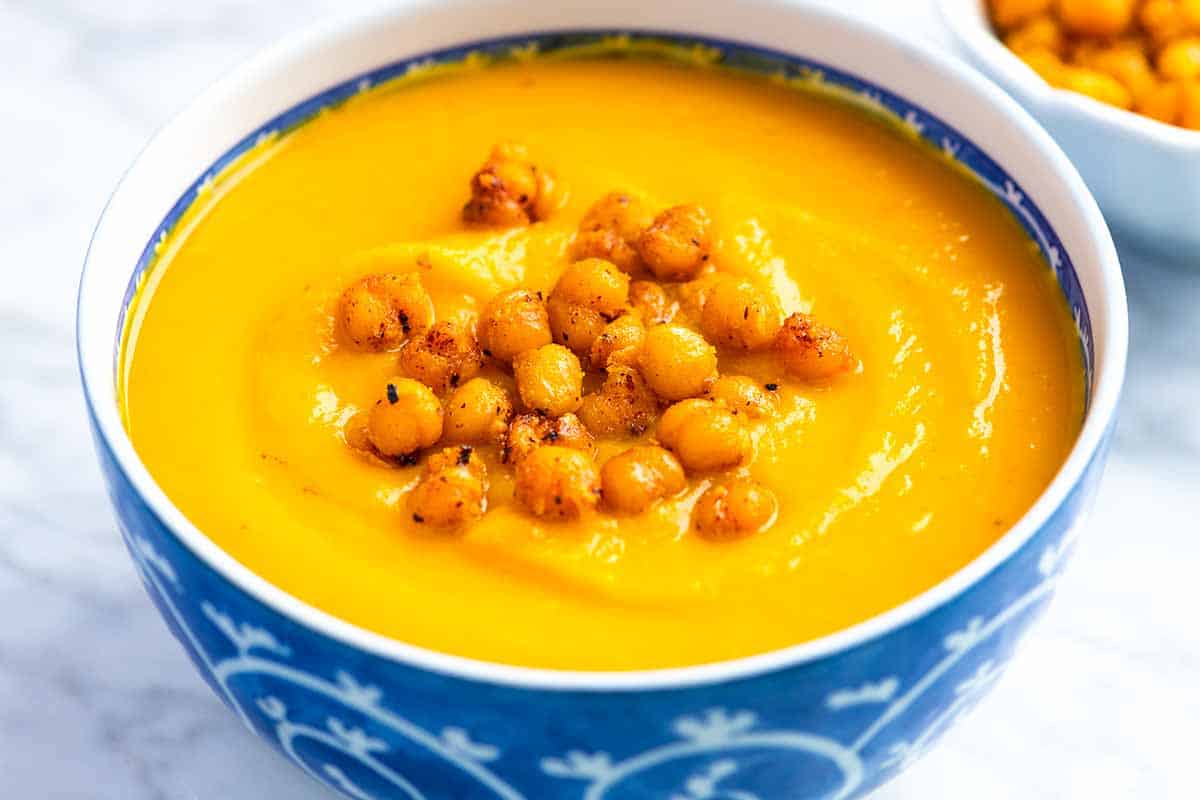 How to Make Our Favorite Butternut Squash Soup
As written and photographed, this butternut squash soup is vegan and let me tell you, it's incredibly delicious that way, and we truly believe that everyone, even the meat-eaters at the table will love it. We call for butternut squash, leeks, which when swapped for onions add a lighter sweet flavor, garlic, carrot, fresh herbs, and a rich vegetable stock. We don't typically add any butter or cream, although, you are more than welcome to add them at the end when blending.
Our recipe is straightforward and is perfect for making ahead of time. Here's the basic process, and remember, there's a quick recipe video above to walk you through it:
Roast the squash until soft inside. This our number one tip for the best tasting, creamiest soup. Roasting the squash concentrates flavor. The process also allows us to add a little extra flavor of our own. We cut the squash into halves or quarters, add a little oil, and season with salt.
We prefer to roast the squash cut-side-down, but before doing so, we sneak a sprig of rosemary underneath each piece of squash — just like we do when roasting spaghetti squash. As the squash roasts, the rosemary perfumes the flesh and makes it taste and smell amazing.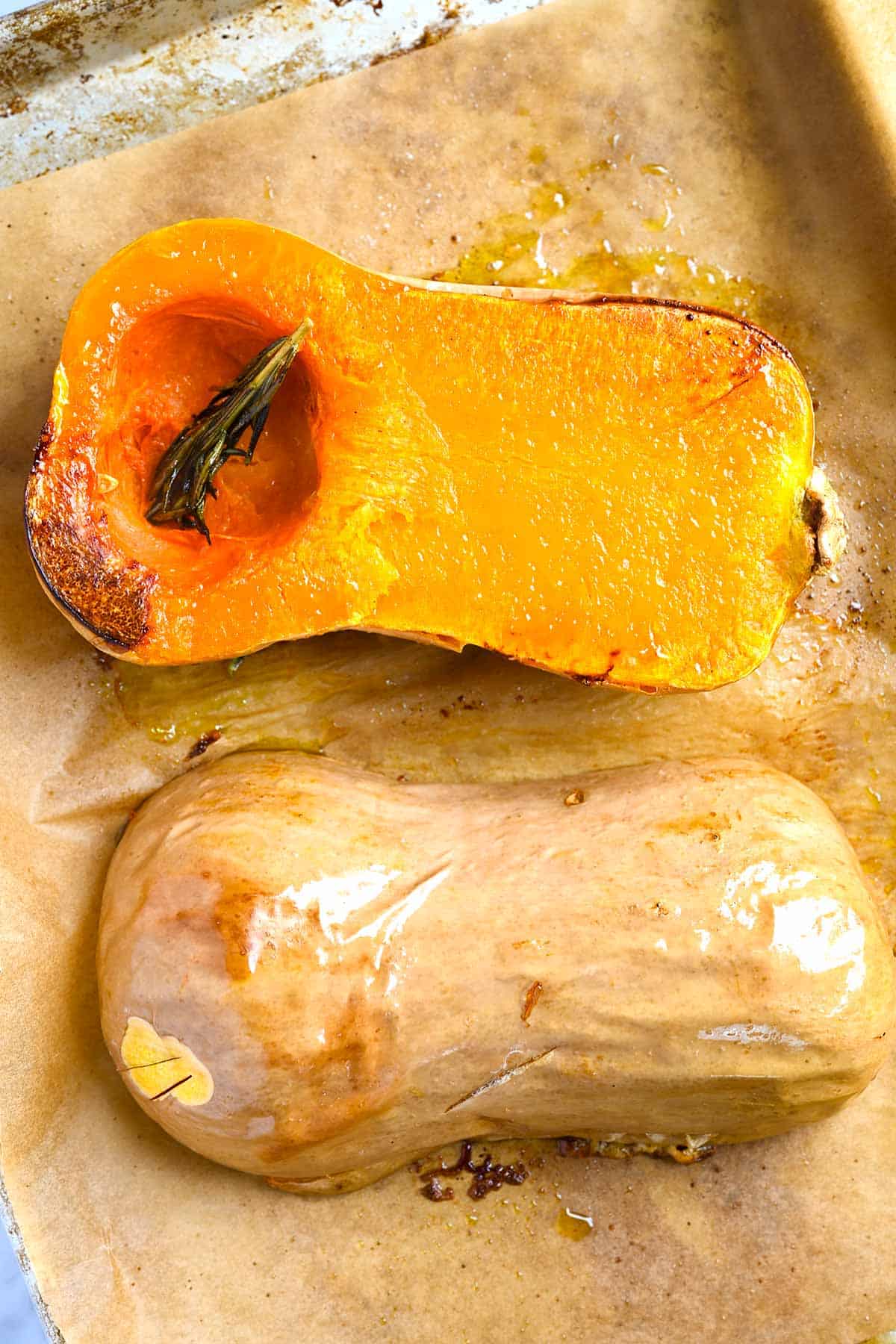 Saute leeks, carrots, and garlic. While the squash roasts in the oven, we prepare the rest of the soup ingredients. This way, the moment the squash is finished, we can move right into blending the soup. I like to use a big soup pot — like a Dutch oven — and then cook the leeks, carrot, and whole garlic cloves in a little oil until soft and sweet. I don't worry too much about the size of the veggies, everything is blended in the end anyway.
Add spices and broth. When the leeks smell sweet and look soft, it's time to add some extra spice. We don't go crazy, but a little cumin and smoked paprika (just 1/4 teaspoon of each) go a long way to give the soup a touch of smokiness. It's also a good idea to use a flavorful broth. To keep it vegetarian, we've used vegetable broth in our photos and video, but chicken or turkey broth are also excellent.
Blend the soup until creamy. When the squash is soft in the middle, scoop it out and place it into the pot with the other soup ingredients. Then blend it until creamy and smooth. The easiest option is to use an immersion blender, which allows you to blend the soup right in the pot itself. This is what we've done in the video. The soup becomes smooth and creamy. For an even more silky soup texture, consider using a high speed blender.
Finish by seasoning the soup to taste and add a little coconut oil. I love the combination of coconut and butternut squash so just before serving, we stir in a little coconut oil into the soup. It melts down and adds just a hint of coconut flavor. If you aren't as much of a fan of coconut butternut squash soup, simply leave it out or swap for olive oil or butter.
Add Some Spiced Chickpeas
For color, texture, and a little extra spice, we love to add a handful of spiced chickpeas to our soup. You can buy crispy chickpeas in a variety of flavors or you can make your own batch quite easily. The homemade version isn't as crispy, but they are delicious. Here's how we do it:
Drain and pat chickpeas dry or (use canned or home-cooked chickpeas).
Cook the chickpeas in a skillet with oil until light brown and crisp on the outside.
Season with salt and your favorite spice blend. We love using this homemade chili powder.
Drain on paper towels and serve.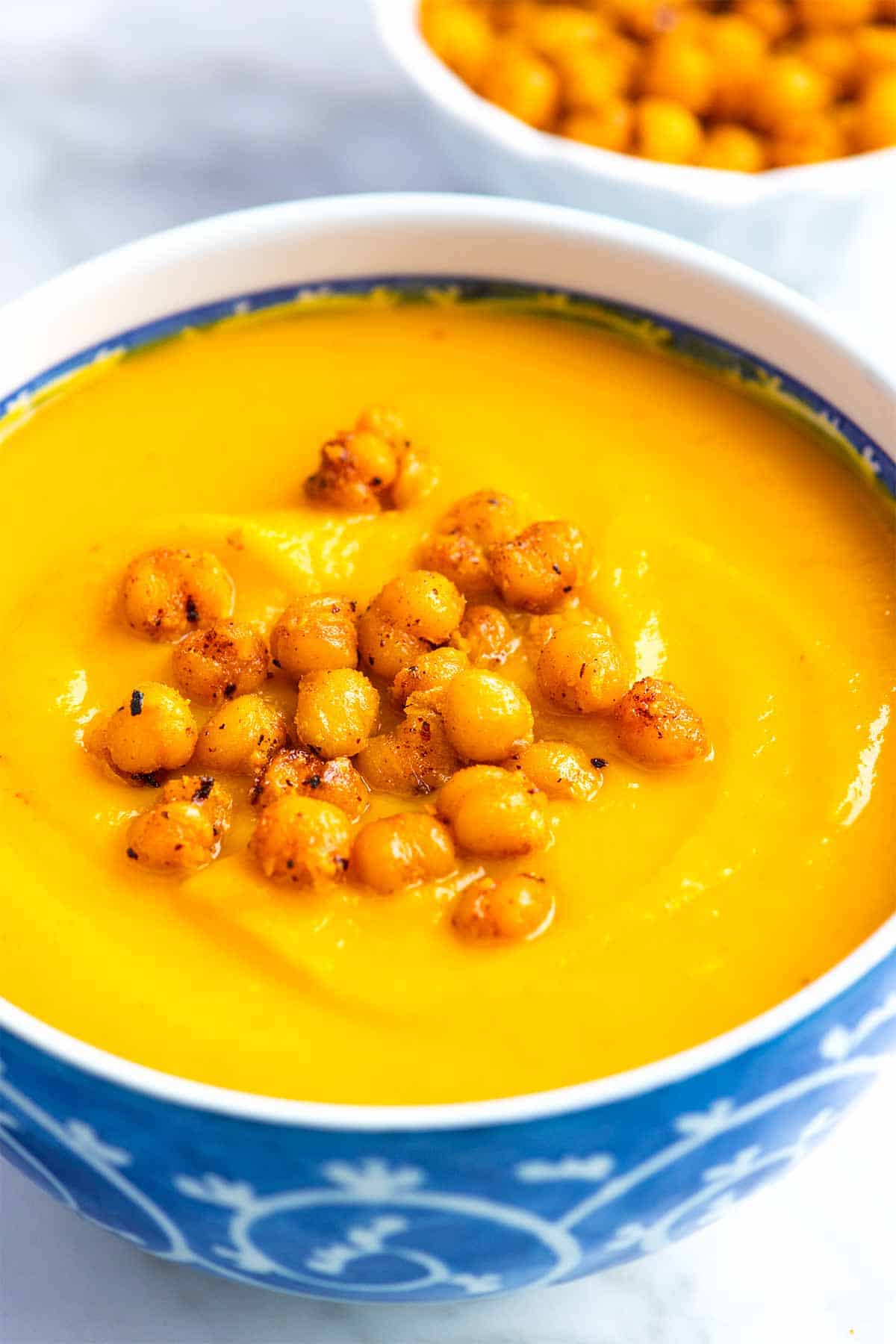 Butternut Squash Soup Variations
This soup is absolutely delicious as written, but that doesn't mean that there aren't a few changes you can make so that it is your own. Here are a few suggestions:
Add cream: This soup is ultra creamy as written, but for an extra splurge, adding a splash of cream, like in this butternut squash soup, would be lovely.
Add coconut milk: For a creamier, but still vegetarian soup, add a splash of unsweetened coconut milk.
Curried butternut squash soup: In addition to the cumin and smoked paprika called for in the recipe below, add 1/2 to 1 teaspoon of curry powder. Or add a teaspoon of Thai red curry powder mix (found in most grocery stores).
Add more vegetables: Add white/light colored vegetables to the soup such as cauliflower, potatoes, turnips or parsnips.
Make it spicy: Add a pinch or two of red pepper flakes, 1/4 teaspoon or so of cayenne pepper or some hot sauce to the soup to bump up the heat level.
Add cooked sausage or bacon: Instead of the chickpeas, top the soup with cooked and crumbled sausage or bacon.
Serve like baked potato soup: Serve the soup with a dollop of sour cream, some shredded cheese, chives or spring onion, and a little bacon.
Frequently Asked Questions
Can I make butternut squash soup in advance?
Absolutely! Store this soup in airtight containers in the refrigerator 5 to 7 days. Simply reheat in the microwave or on the stove before serving.
Can I freeze butternut squash soup?
Yes, we do this all the time. Store in freezer-friendly airtight containers and freeze up a month, maybe more. Allow the soup to thaw overnight in the refrigerator and then reheat before serving.
Can I use other winter squashes to make this soup?
Yes, that's a great idea. Try swapping the butternut squash for acorn squash, kabocha squash, red kuri squash, sugar or baking pumpkins, or any other winter varieties you've found at your local farmer's markets.
Do I really need to roast the squash?
For the most flavorful soup, roasting the butternut squash is best. That said, you can make this soup without the roasting step and it will still be perfectly delicious. Simply peel and dice the squash into cubes — you can see us do this in this butternut squash recipe. Then, add the squash along with the leeks, carrots, and garlic. After sautéing them for 5 to 10 minutes, add the broth and simmer until the squash is tender, and then blend.
Dreamy Roasted Butternut Squash Soup
This easy roasted butternut squash soup is unbelievably creamy, satisfying, and so flavorful. It's also very simple to make, delicious when made in advance, and naturally vegan. We stir a little coconut oil right at the end before serving. This adds a faint, sweet coconut flavor. If you do not enjoy coconut, simply skip this step or stir in a little olive oil or butter.
Makes approximately 8 cups
Watch Us Make the Recipe
You Will Need
Butternut Squash Soup
One 3 to 3 1/2-pound butternut squash
2 fresh rosemary sprigs
2 tablespoons olive oil
2 cups thinly sliced leeks, white and light green parts only (1 large leek)
3/4 cup thinly sliced carrots (1 large carrot)
3 medium cloves garlic, peels removed
1/4 teaspoon ground cumin
1/4 teaspoon smoked paprika
Pinch red pepper flakes or cayenne, optional for heat
5 to 6 cups vegetable or chicken broth, use more as needed
1 bay leaf
1 tablespoon coconut oil, optional
Salt and fresh ground black pepper, to taste
Spiced Chickpeas
One 15-ounce can chickpeas or 1 1/2 cups cooked chickpeas
3 tablespoons oil (olive oil, safflower oil or grape seed oil)
Pinch salt
1/2 to 1 teaspoon spice blend (such as chili powder, Za'atar or Cajun seasoning)
Directions
Roast Squash

Heat the oven to 400 degrees Fahrenheit (204° C). Line a baking sheet with parchment paper or silicone baking mat.

Trim the stem end of the squash, and then slice in half lengthwise. If the squash is too large to safely cut in half, cut the squash crosswise in half, just where the thinner end begins to widen. Then slice each piece in half, lengthwise. Scoop out the seeds. (Watch us do this in the recipe video.)

Brush or spray the cut side of the squash with 1/2 tablespoon of olive oil and season with a generous pinch of salt. Place each piece of squash, cut-side-down onto the prepared baking sheet. Sneak a small sprig of rosemary underneath each piece of squash. Roast the squash until soft inside, 40 to 50 minutes.

Prepare Soup

While the squash is in the oven, heat 1 1/2 tablespoons of olive oil in a large Dutch oven or deep pot over medium heat, and then add the leeks, carrots, and whole garlic cloves. Cook, stirring occasionally, until the leeks have softened and smell sweet, 5 to 8 minutes.

Stir in the cumin, smoked paprika, and red pepper flakes (optional) and cook another 30 seconds. Pour in 5 cups of the broth, add the bay leaf, and bring to a simmer. Taste the broth and adjust with salt and pepper if needed.

Cook at a low simmer for 15 minutes then turn off the heat and wait for the squash to finish roasting.

To Finish

When the squash is roasted and cool enough to handle, use a spoon to scrape out the soft flesh from the peel. Discard the peel and rosemary, and then place the squash into the pot with leeks.

Remove the bay leaf, and then blend the soup using an immersion blender or transfer to a high speed blender, being careful not to overfill. Blend until smooth and creamy. If the soup is too thick, add some or all of the final cup of broth.

Stir in the coconut oil, and then adjust with more salt or pepper as needed. Serve with spiced chickpeas on top.

Spiced Chickpeas (Optional)

Open and drain a can of chickpeas, and then pat them very dry.

Heat a few tablespoons of olive oil in a wide skillet over medium-high heat and then add the chickpeas. Cook, stirring often, until the chickpeas turn a light brown and look crisp, about 10 minutes. Stir in a generous pinch of salt and your favorite spice blend. Transfer to a bowl lined with paper towels and enjoy.
Adam and Joanne's Tips
Rosemary: I love rosemary and butternut squash together, but other herbs work, as well. Try thyme or sage. If you don't have access to fresh herbs, scatter a pinch of dried herbs over the cut side of the squash pieces before roasting.
Nutrition facts: The nutrition facts provided below are estimates. We have used the USDA database to calculate approximate values. Information provided includes the spiced chickpeas.
If you make this recipe, snap a photo and hashtag it #inspiredtaste — We love to see your creations on Instagram and Facebook! Find us: @inspiredtaste
Nutrition Per Serving: Serving Size 1 cup / Calories 236 / Total Fat 11.5g / Saturated Fat 2.8g / Cholesterol 0mg / Sodium 666.4mg / Carbohydrate 33.4g / Dietary Fiber 6.2g / Total Sugars 7.6g / Protein 4.3g
AUTHOR: Adam and Joanne Gallagher