These cute and festive Christmas Tree Rice Krispie Treats are chewy and delicious, and topped with melted white chocolate and sprinkles for the tree's decorations! It's a perfect treat for the holidays!
Love easy no bake desserts? Our no bake peppermint cheesecakes are a delicious treat for the holidays. Or give our delicious no bake strawberry cheesecake a try this holiday.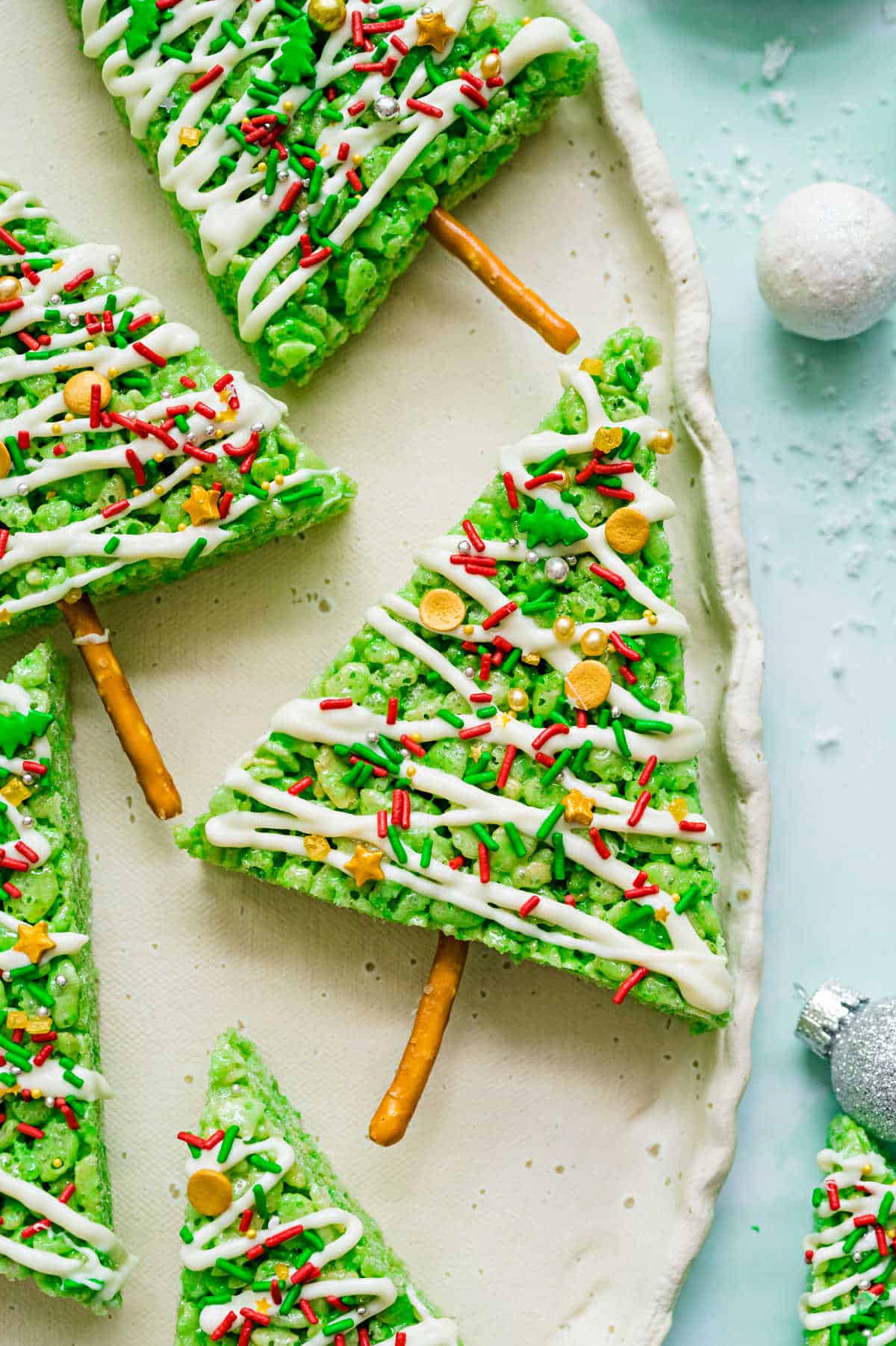 Why This Recipe Works
Rice Krispie treats are one of my very favorite desserts. Knowing how to make rice krispie treats has gotten me far in life. And I love coming up with fun variations!
These Christmas Tree Rice Krispies are such a cute Christmas time snack – and they are really fun to make and decorate!
Add these to your holiday must-make list to share with friends and family. Kids and adults both adore them!
These rice krispy treats are dyed green and cut into triangle shapes for a fun "tree" look.
Melted white chocolate is drizzled over top of the cooled treats and sprinkles are added for some pretty decorations.
A pretzel stick in the bottom makes the tree stump to complete the look.
Love easy Christmas treats? You'll want to give our holiday scotcheroos a try next. So fun and festive.
Ingredient Notes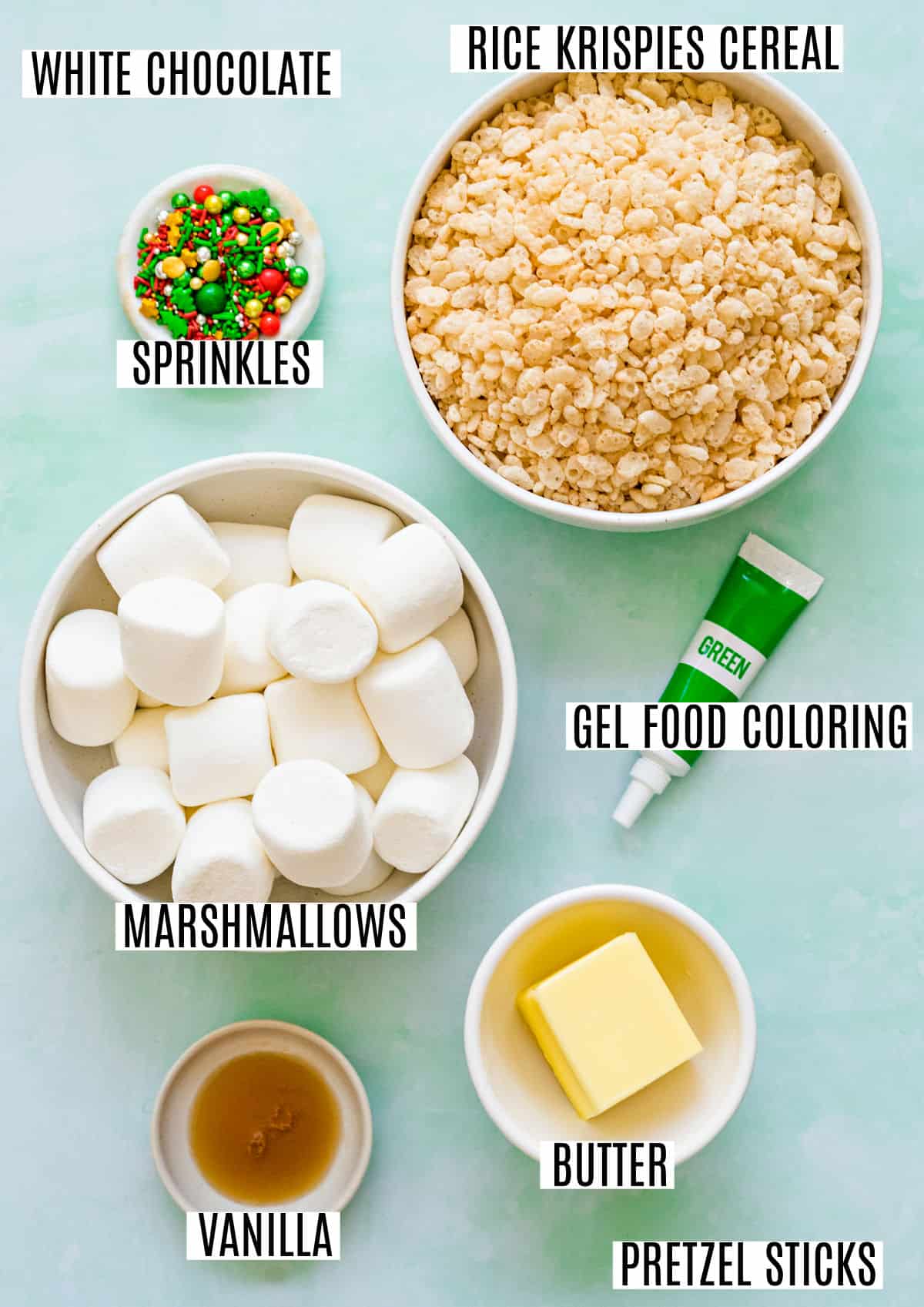 Marshmallows – You'll need a large 16-ounce bag of marshmallows for this recipe. Fresh marshmallows are best.
Rice Krispies Cereal- Any brand of crispy rice cereal will work, just make sure it's FRESH. Stale cereal equals stale treats.
Vanilla Extract – I love using homemade vanilla extract for all my recipes, but store-bought is fine, too. Just be sure to use PURE vanilla, not imitation.
Green Coloring – Gel food coloring provides a more vibrant color. Add more or less to achieve desired shade of green for your trees.
Sprinkles – Have fun with these! Use a mix of colors or different colors and types of sprinkles on different trees for variety.
Easy Instructions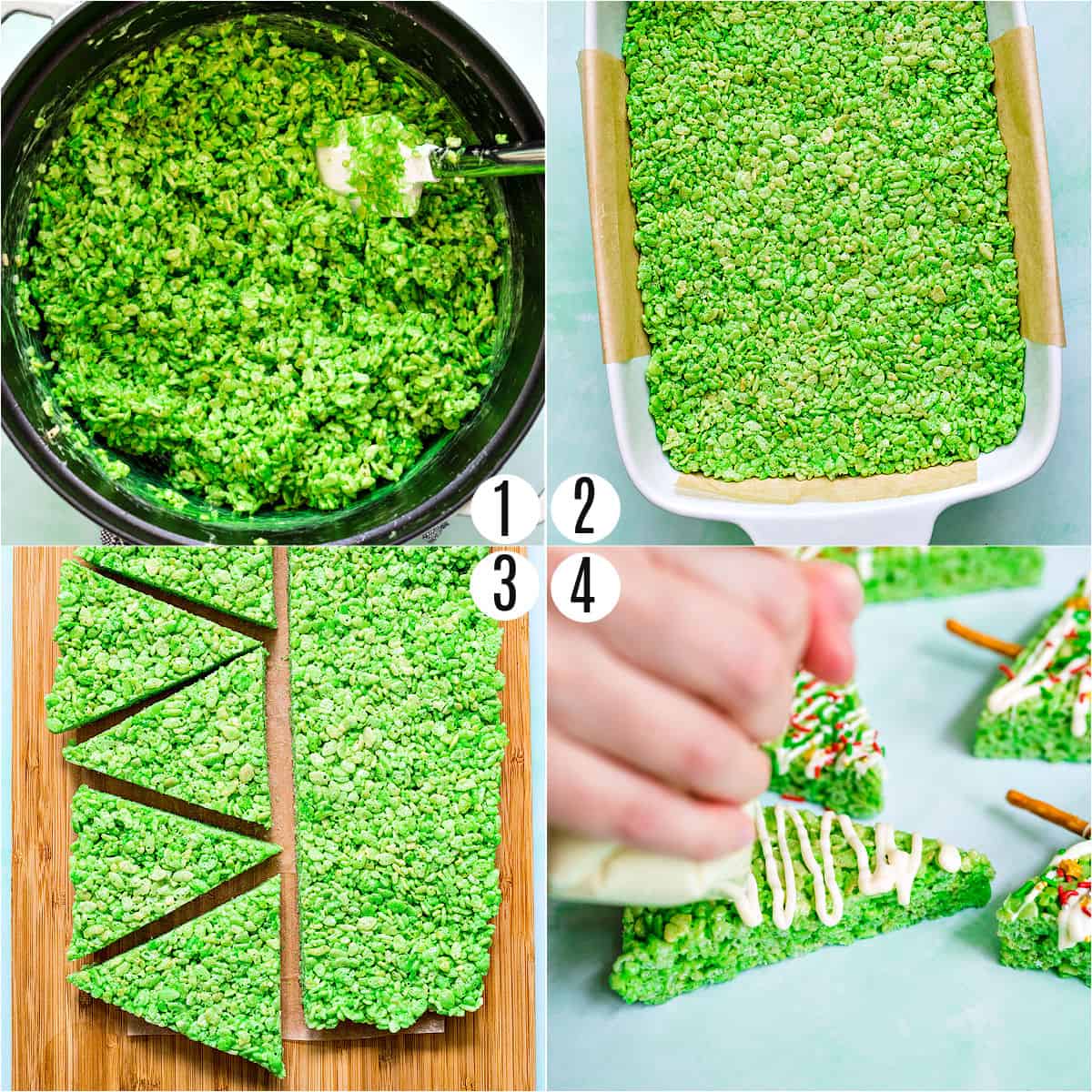 STEP 1. Make the Rice Krispies. Melt marshmallows and butter, then stir in vanilla extract, green food coloring and then the cereal.
STEP 2. Allow to set. Gently put the rice krispy mix into a greased 13×9 baking dish. Let set up for one hour.
STEP 3. Shape. Make a horizontal cut followed by diagonal cuts to achieve the tree triangle shapes.
STEP 4. Decorate the trees. Melt the white chocolate and pipe onto the trees. Add the sprinkles. Carefully insert a pretzel stick into the bottom of each tree to make the stump.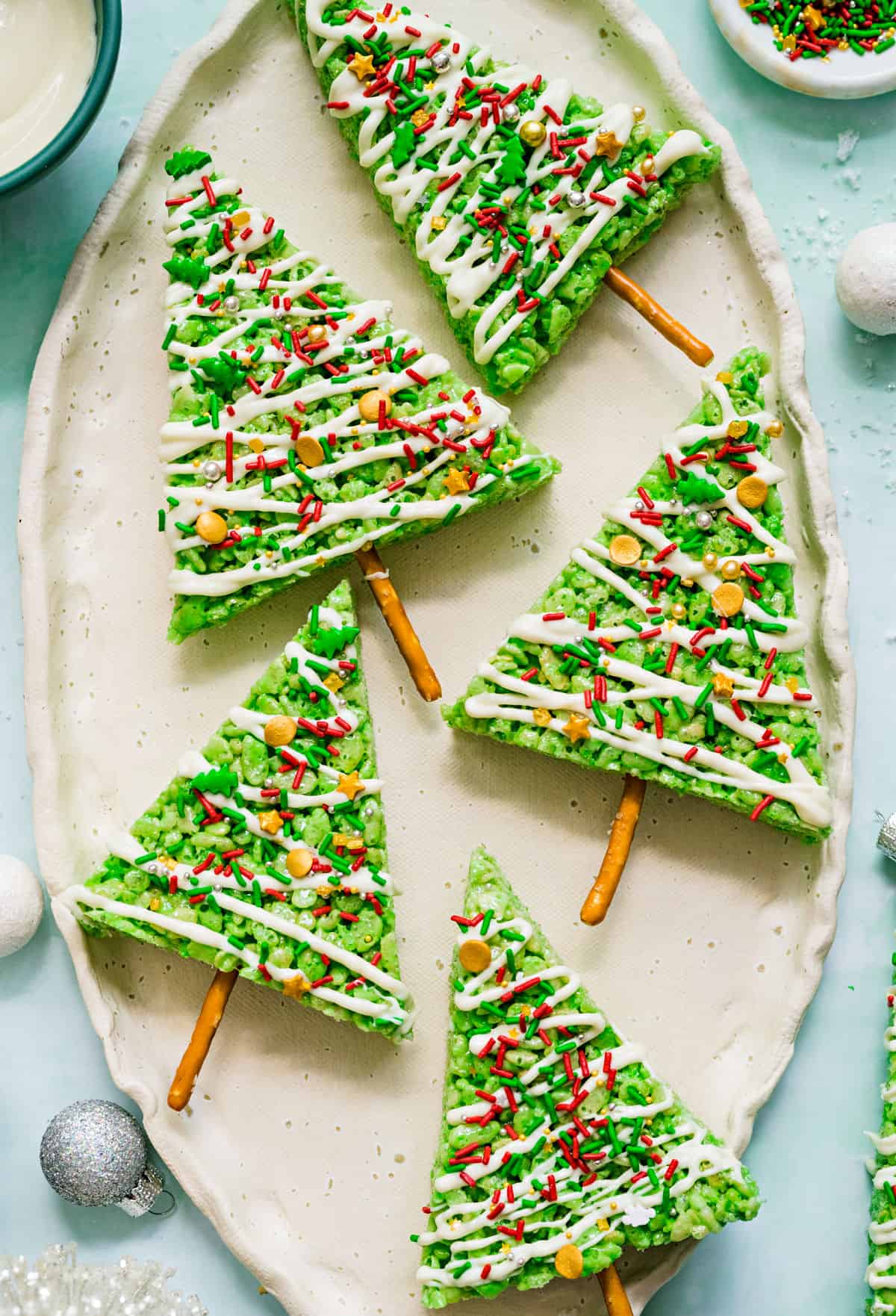 Tips and Tricks
Use FRESH marshmallows and FRESH cereal. Toss the bag or box that's been sitting in your pantry for you don't know how long. Stale ingredients means stale treats.
Vanilla extract is the secret ingredient in my Rice Krispy treats. It makes a difference in creating the illusion that you're using homemade marshmallows. (Just be sure to use REAL vanilla, not imitation.)
The marshmallows and butter can also be heated in the microwave (instead of stovetop).
Don't pack in the treats too firmly in the pan; it can make the treats hard. Gently press them in so they stay nice and soft and chewy.
Use a little water on your finger tips to help press the crispy rice mixture evenly into the pan without it sticking to you.
Carefully insert the pretzels in the treats to make the stumps. And maybe have a few extra on hand in case one breaks.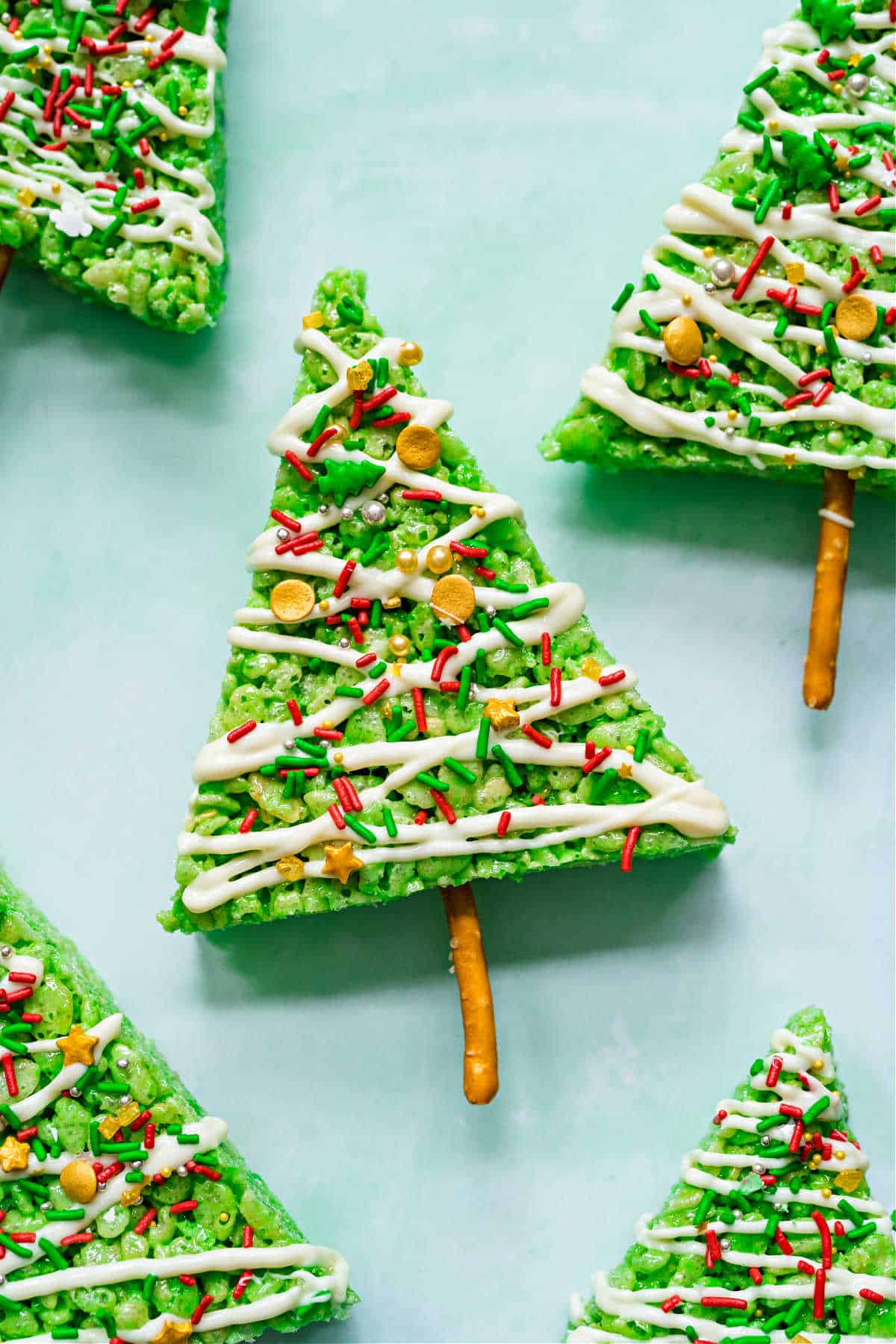 Recipe FAQs
What kind of cereal should I use for krispy treats?
Any brand of crispy rice cereal will work, just make sure it's fresh for the best results.
Can I use regular food coloring for this recipe?
The green gel food coloring provides a more vibrant color and is preferred. You can adjust the amount – using more or less – to achieve your desired color. Regular green food coloring can also be substituted. 
Can I make these rice krispies gluten free?
Yes. Choose a crispy rice cereal that's labeled gluten free. And use gluten-free pretzels for the tree stump. Also, check your marshmallow labels and gel food coloring, too, just in case.
How do I store Christmas Tree Rice Krispy Treats?
The treats, once cooled, decorated and set, can be stored in an airtight container at room temperature for up to one week.
Why are my rice krispy treats hard?
Your krispies treats could be getting hard if you press the treats too firmly into the pan. Also, be sure to start with fresh marshmallows and cereal, not stale!
More Christmas Desserts