A Breakfast Charcuterie Board is the perfect way to start the day. With a little something for everyone, it's sure to be a hit!
With a little of this and a little of that, create a Breakfast Charcuterie Board for any occasion. Mini Cinnamon Rolls, Bacon, and Fluffy Pancakes are some of our musts!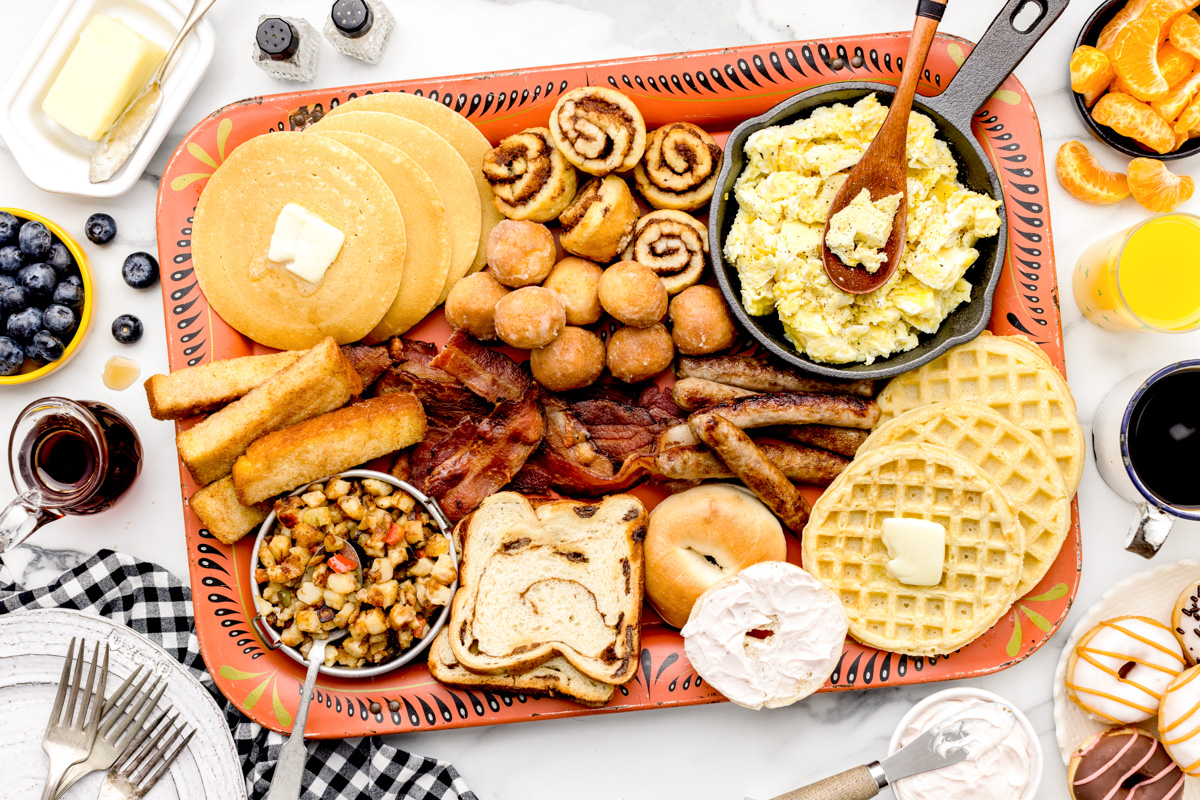 Brunch charcuterie boards
Whether for breakfast, brunch, or dinner, this Charcuterie Board is sure to be a hit!
Completely customizable, and absolutely delicious, fill this Breakfast Charcuterie Board with homemade breakfast favorites, or make it a breeze with a little help from the bakery or freezer section of the grocery store.
This would be perfect for a special occasion, like Christmas morning or Easter brunch, but can make any day memorable!
Choose a board
First, choose the board you will use. I love the look of wooden charcuterie boards. You can use a decorative tray, a large platter, or even a baking sheet.
If serving items that are oily, you may want to first put down a piece of wax paper so it doesn't seep into the board.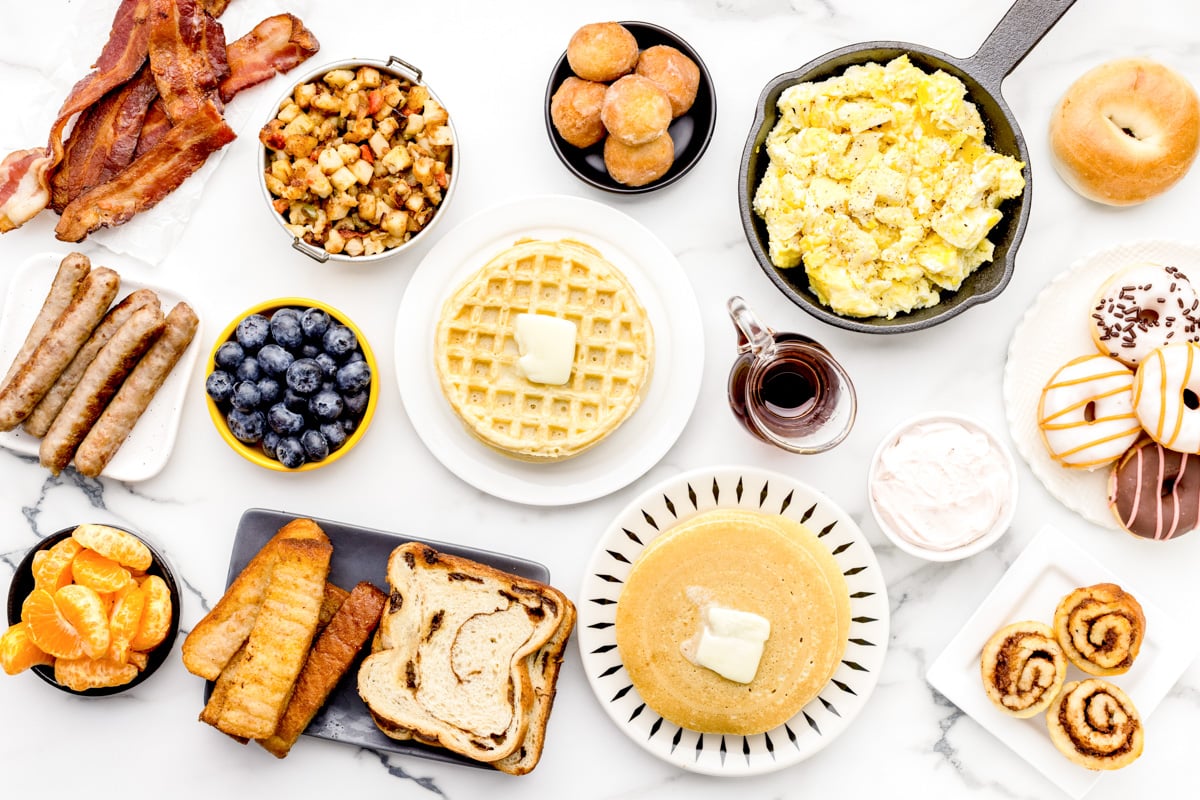 Build the Breakfast Charcuterie board
PREP. Decide which ingredients need to be contained in small bowls such as eggs and breakfast potatoes. Place the bowls on the board with space in between.
FILL. Begin to add to the board by filling in around the bowls. Place on large items and then fill up the empty spaces with smaller items.
I like to try and spread the different elements out evenly over the board-  color, texture, sweet, and savory.
Use your favorite breakfast items! Though it is delicious to think about using all scratch-made elements, it can be quite a bit of work.
For this board, I used a combination of made-from-scratch items and store-bought items. I included recipe links should you wish to make it from scratch, but you can decide what works best for you!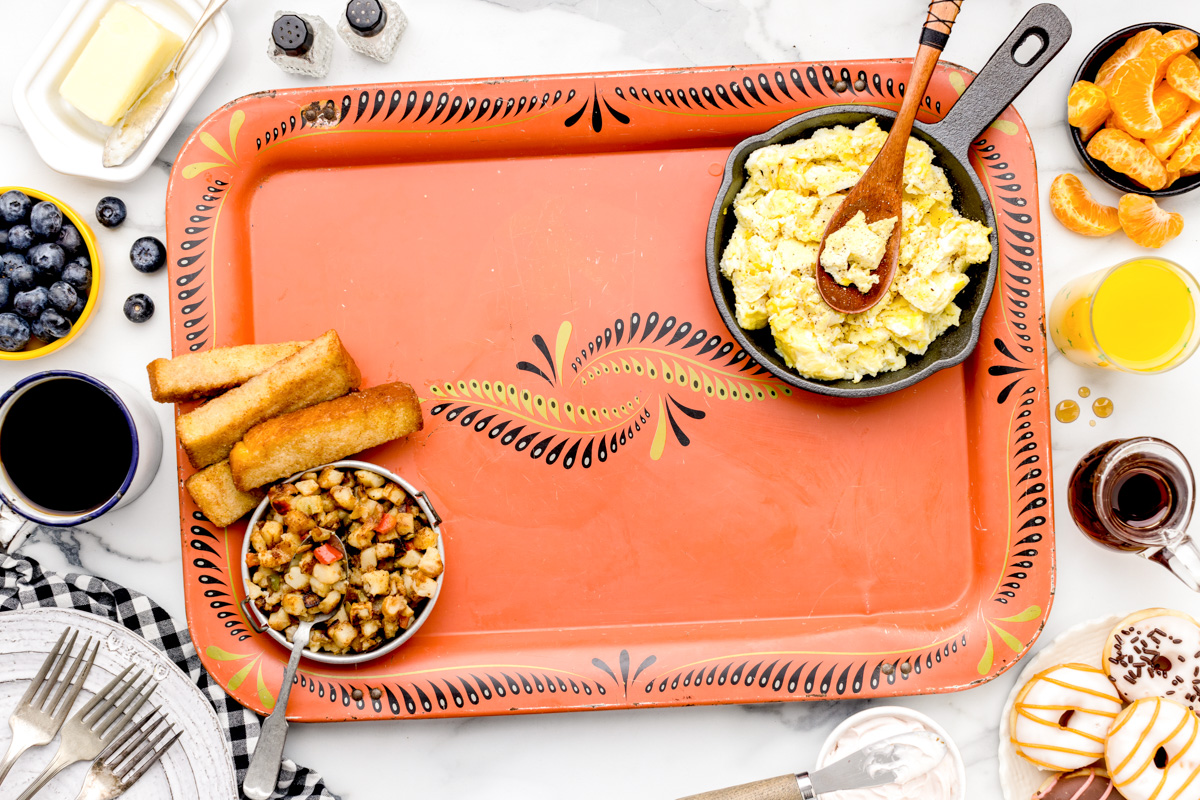 Add to the spread
On the side. Have plates, napkins, and utensils. Provide a butter dish and different types of syrup, jam, and fruit compote. If the board is big enough you may have room to place some of these items directly on the Brunch Board. 
Alternative elements. I wanted to provide a sample of many different types of breakfast food. Add more or less. Some other ideas that would be great to have on a Charcuterie Breakfast Board include:
Tortillas, English Muffins, Granola, mini croissants
Cinnamon Cream Cheese Roll Ups, Mini Applesauce Muffins, Best Scones,  Sausage Rolls
Hash Brown Egg Cups, Sweet Potato Hash
Healthy Egg Muffins
Chocolate Gravy, yogurt, cream cheese spread, honey, maple syrup
Garnish with fresh herbs and sprinkle in nuts
Fresh Fruit: strawberries, raspberries, bananas, cranberries, blackberries, grapes, kiwi, watermelon, cantaloupe- use fruits that are in season
Beverages. With all this scrumptious food you'll want to have a delicious drink to go along with it – classic orange juice, apple juice, or coffee. You can also make: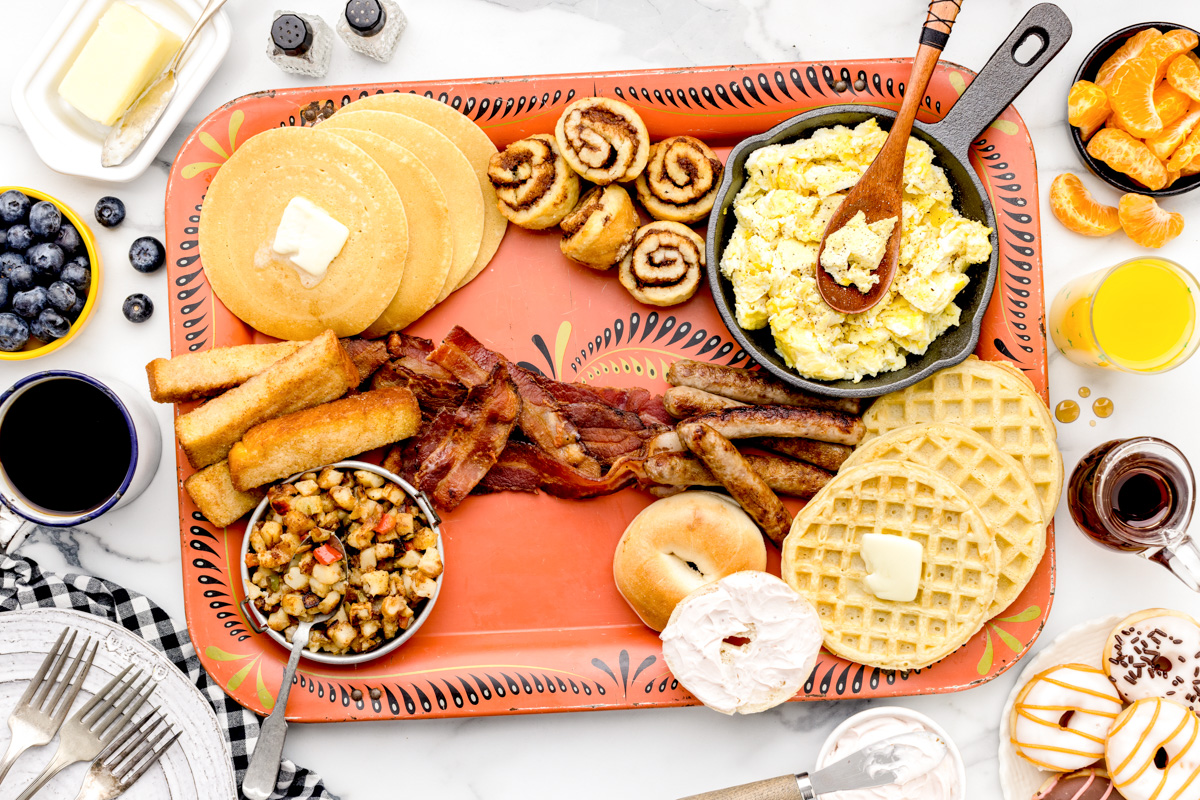 Charcuterie Tips
Refill. Have extra ingredients so that when items are gone from the Breakfast Charcuterie Board they can be refilled. 
Get creative. There is no right way or wrong way to build a board. Have fun and put items on there that you would love.
Keep it warm. Hot foods should not sit out for longer than 2 hours. Keep food warm in the oven, on low heat, until you are ready to place them on the board. 
Meat. Be sure the meat has been cooked completely. Raw meat should not touch other foods. Wash hands and surfaces after touching raw meat. If you're not a meat eater, simply leave it off.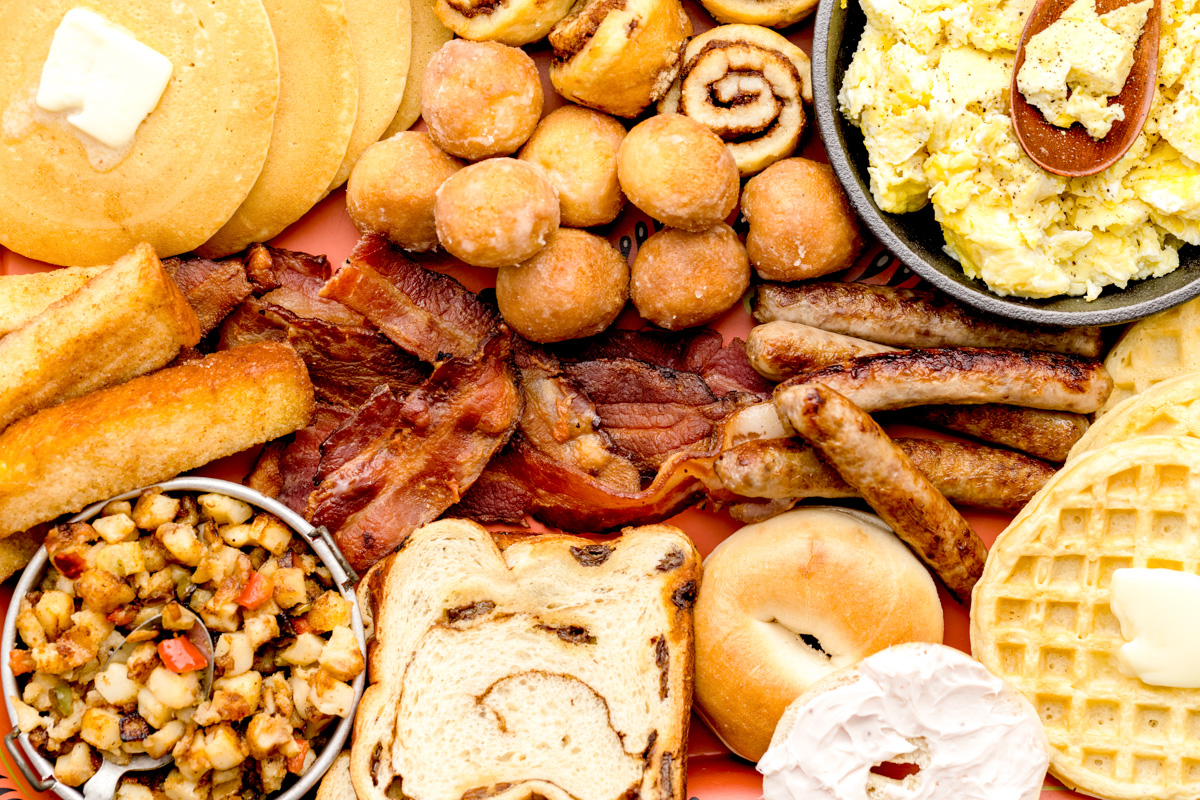 How much to make
Provide the same amount of food you would if serving a traditional breakfast. The following information can help you determine how much to make so that there is enough for everyone. 
Storing Info
Make ahead of time. Purchase or prepare many of the ingredients ahead of time and keep them stored separately until you are ready to assemble the Breakfast Board.
STORE. Whatever is left over, store separately. Rebuild the board the next day or just snack on the different items.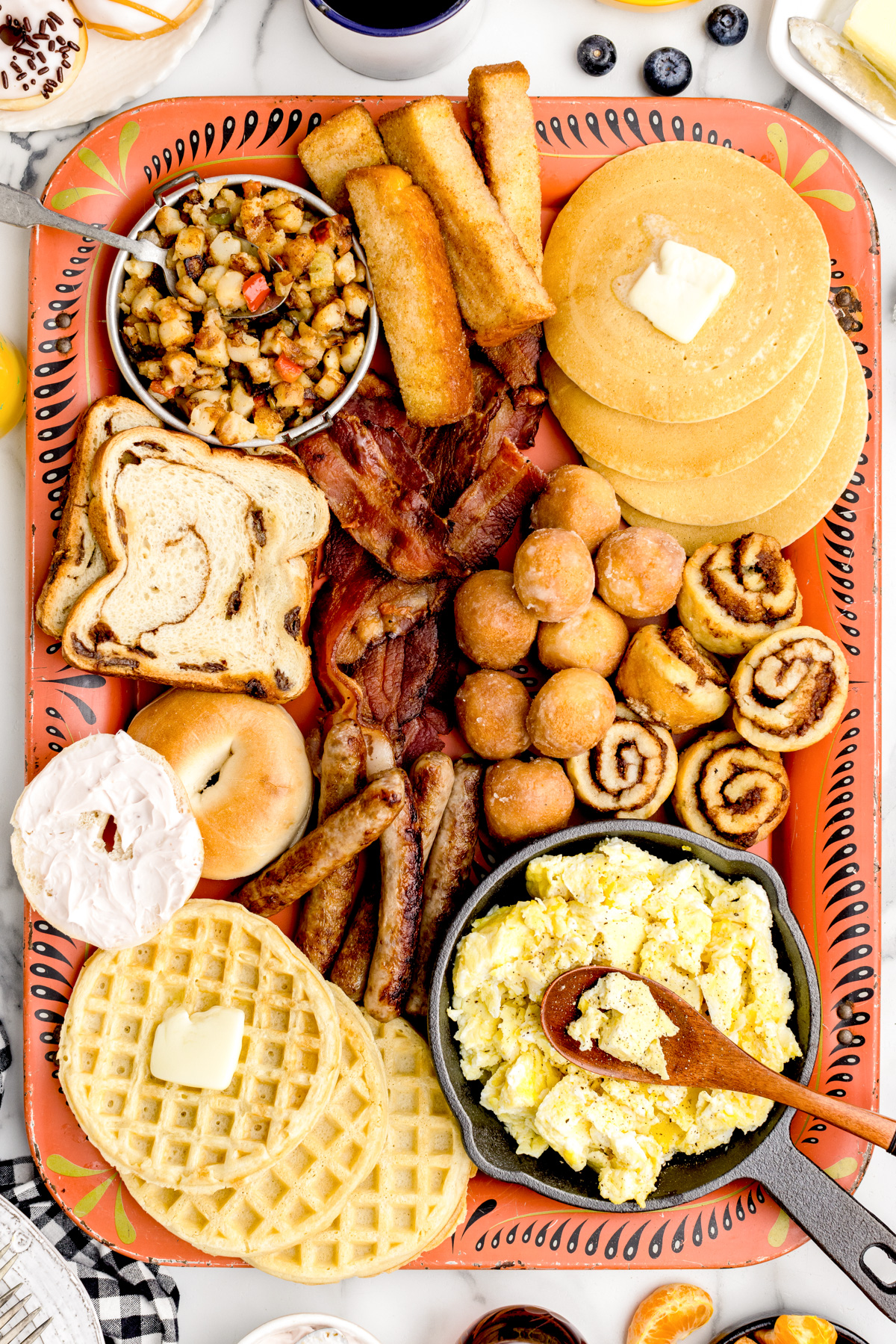 For More Charcuterie Boards:
Choose the board you will use as the base.

Decide which ingredients need to be contained in bowls. Place the bowls on the board with space in between.

Consider the color of your ingredients and plan ahead to not have the same colors next to each other if possible.

Begin to build your board, filling in around the filled bowls. Add spoons and/or utensils for serving.

Include extras such as orange juice, hot cocoa, syrup, butter, and jam.