This
acorn squash soup
recipe is the perfect answer to a cold fall night. It's an incredibly simple: everything is roasted on a baking sheet. It's creamy, smooth and perfect for a weeknight meal when paired with a grilled cheese.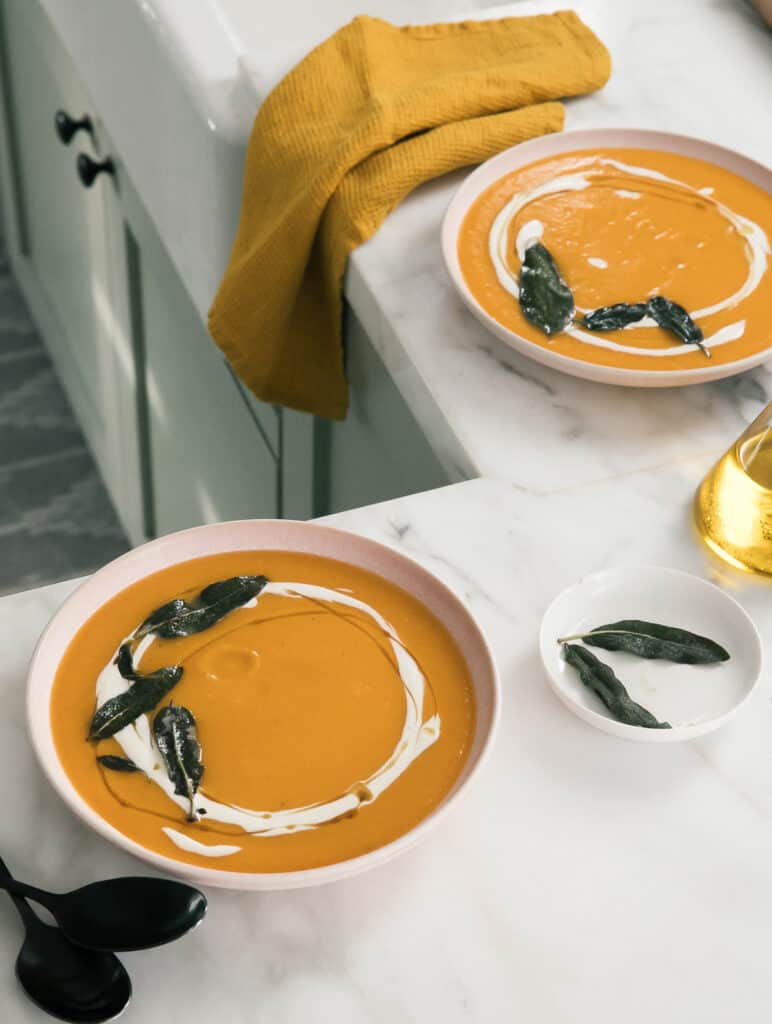 I've made this soup a million times…a million different ways, with all pumpkin…making it pumpkin soup. I've made it with all butternut squash…and all acorn squash. My favorite combo–hands down–is the combo of acorn squash and another type of squash. The flavors don't compete one bit. And while I love creamy soups, I don't like ones that make me feel like I'm eating a bowl of warm milk with a spoon. Just no. No. This is squash heavy
Watch How to Make this Acorn Squash Soup!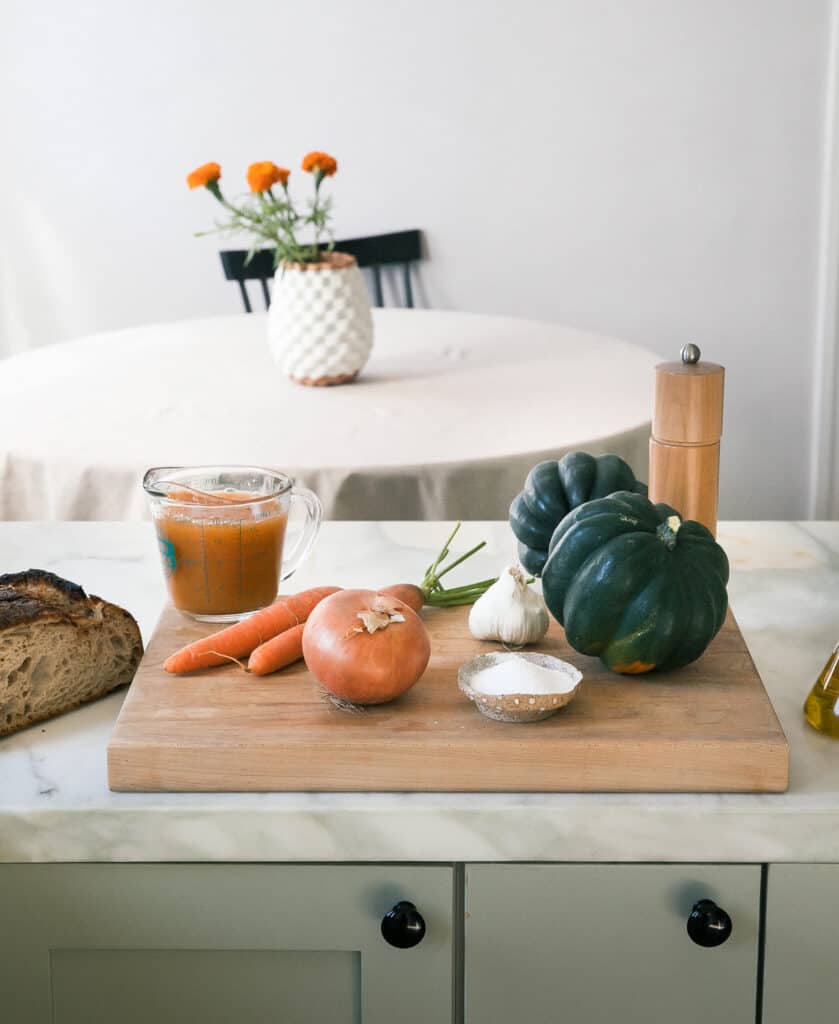 How to Cook Acorn Squash Soup:
Grab a baking sheet and line it with parchment. Add the acorn squash and other squash, cut side down. Add the halved onion and halved garlic. Drizzle the onion and garlic with olive oil and sprinkle with salt and pepper.
Flip the onion and garlic, cut side down. Add a few sprigs of thyme to the baking sheet. Transfer the whole baking sheet to the oven and cook for about 45 minutes to 1 hour.
The roasting time will depend on how big your squash are, but I like to check it by poking it with a knife to make sure it's super tender. Remove the baking sheet from the oven and flip over the squashes using a spatula. It'll be hot and steamy so be careful. Allow it to cool slightly so you can handle it.
Add the broth to the blender, and then scoop out the flesh from the squashes. Peel the onion and discard the skin. Add the onion to the blender. And then grab the garlic and squeeze all the roasted garlic out into the blender. Add the sour cream or crème fraîche, along with the thyme leaves and a few pinches of salt and pepper.
Blend until very smooth, being sure to allow some steam to escape.
After the soup has been blended, add it to a pot and warm it back up–if needed–mine didn't need it! Serve with croutons or a big grilled cheese.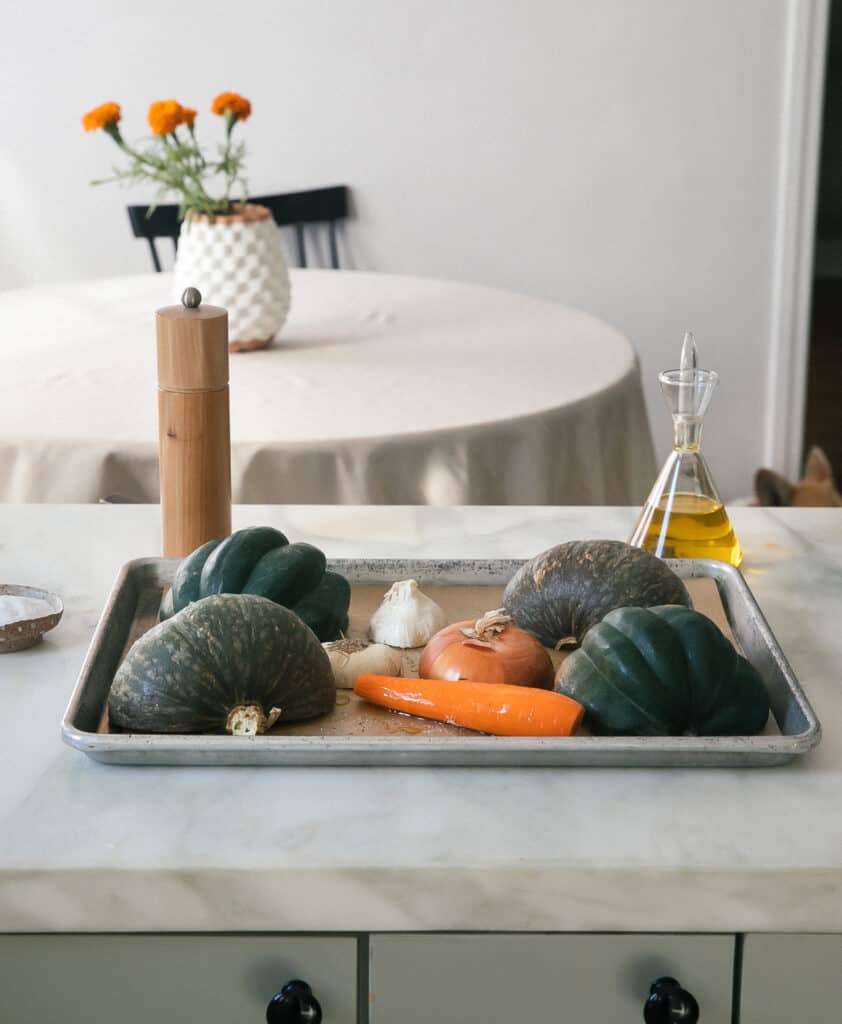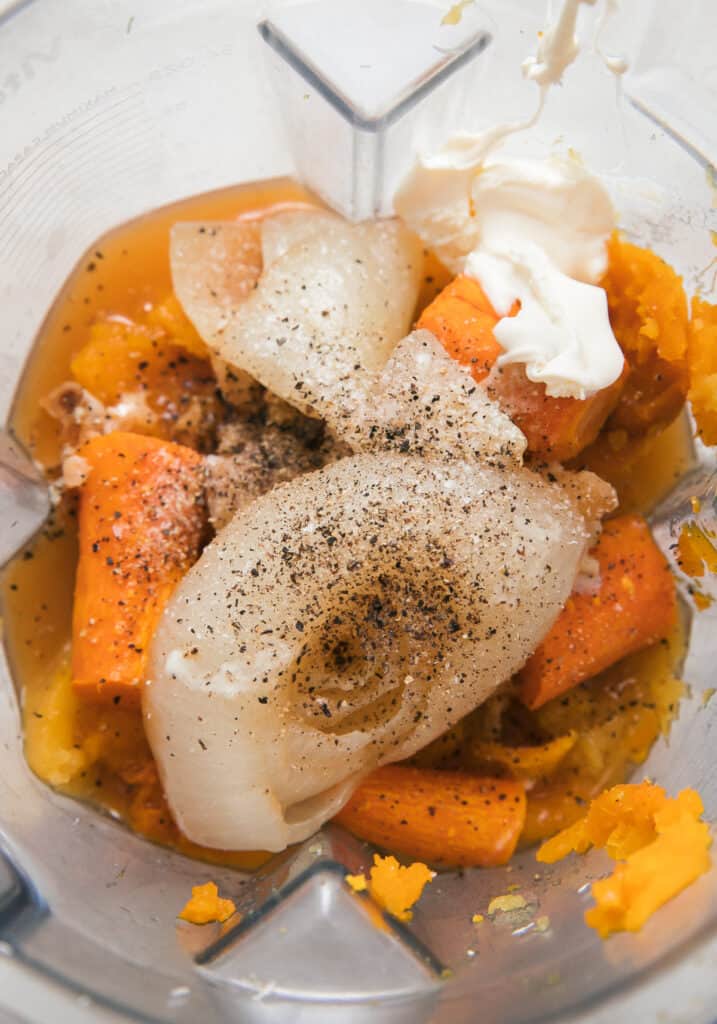 What to Serve with Acorn Squash Soup:
Giant croutons! They're super easy to make, just toast some baguette slices and melt some cheese over them.
Any good rustic loaf of bread. My first choice is croutons but if you don't have the cheese or you don't want to toast the bread any good quality loaf of rustic bread will do just fine.
A grilled cheese. I love dipping grilled cheeses in soup like this. It's a pretty light soup so it pairs nicely with a rich, delicious, butter grilled cheese.
Tips and Tricks:
Use whatever combo you want for the squash! If you don't kabocha squash, feel free to use butternut or sugar pumpkin puree!
This soup freezes really well. Allow it to come down to room temperature and then transfer it to a freezer-safe container.
Did you make this recipe? Let me know on Instagram! Looking for more soup recipes? Here are some of my favorites: