Restaurants
Find dumplings, noodles, roast duck, and more in one of the most delicious pockets of the city.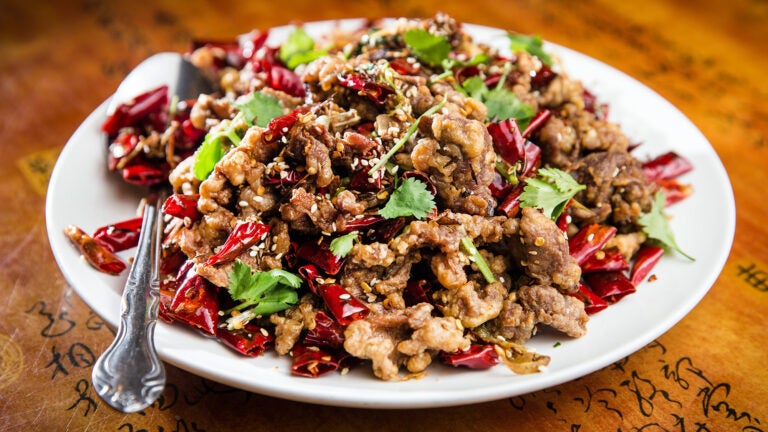 To say that Boston's vibrant, ever-changing Chinatown has experienced hardships in the past couple of years is an understatement. In the early months of the pandemic, the neighborhood was the first to experience a rapid decline in clientele. Chinatown's narrow streets prevented it from taking advantage of outdoor dining in a way that other neighborhoods had been able to, and a series of closures, including New Saigon Sandwich and China King, have considerably changed its landscape.
But the neighborhood is also incredibly resilient, and some of the city's best meals can still be had here, at restaurants that shine a spotlight on fiery Szechuan noodles, sushi, hot pot, dim sum, bánh mì, pho, and more. Craving dumplings? Our readers have you covered with their favorite restaurants.
Debbie Ho knows firsthand how robust the neighborhood's food scene is. The executive director of Chinatown Main Street, a nonprofit organization dedicated to supporting Chinatown businesses and residents, said she eats out almost every single day.
"I enjoy the different types of food that are available here," she told Boston.com. "We have Northern Chinese food, Cantonese Chinese food, Malaysian food, Vietnamese food. Each one of the bakeries — they're not all the same. Even though they have the same concept, they have different flavors."
Through Chinatown Main Street, Ho has worked closely with the neighborhood's restaurant owners, helping them with new signage, figuring out permitting, and applying for government grants. During the pandemic, the organization coordinated food assistance programs for residents in need. Ho said she's hoping next year looks a little busier for Chinatown restaurants.
"We just hope that the normal, day-to-day hustle and bustle — I hope to see that within the next year at least," she said.
Whether you're looking for a reader-recommended 🥟 dumpling spot, a quick grab-and-go lunch, or a late-night feast with friends, these 20 Chinatown restaurants in Boston are a surefire way to leave you with a full — and happy — stomach.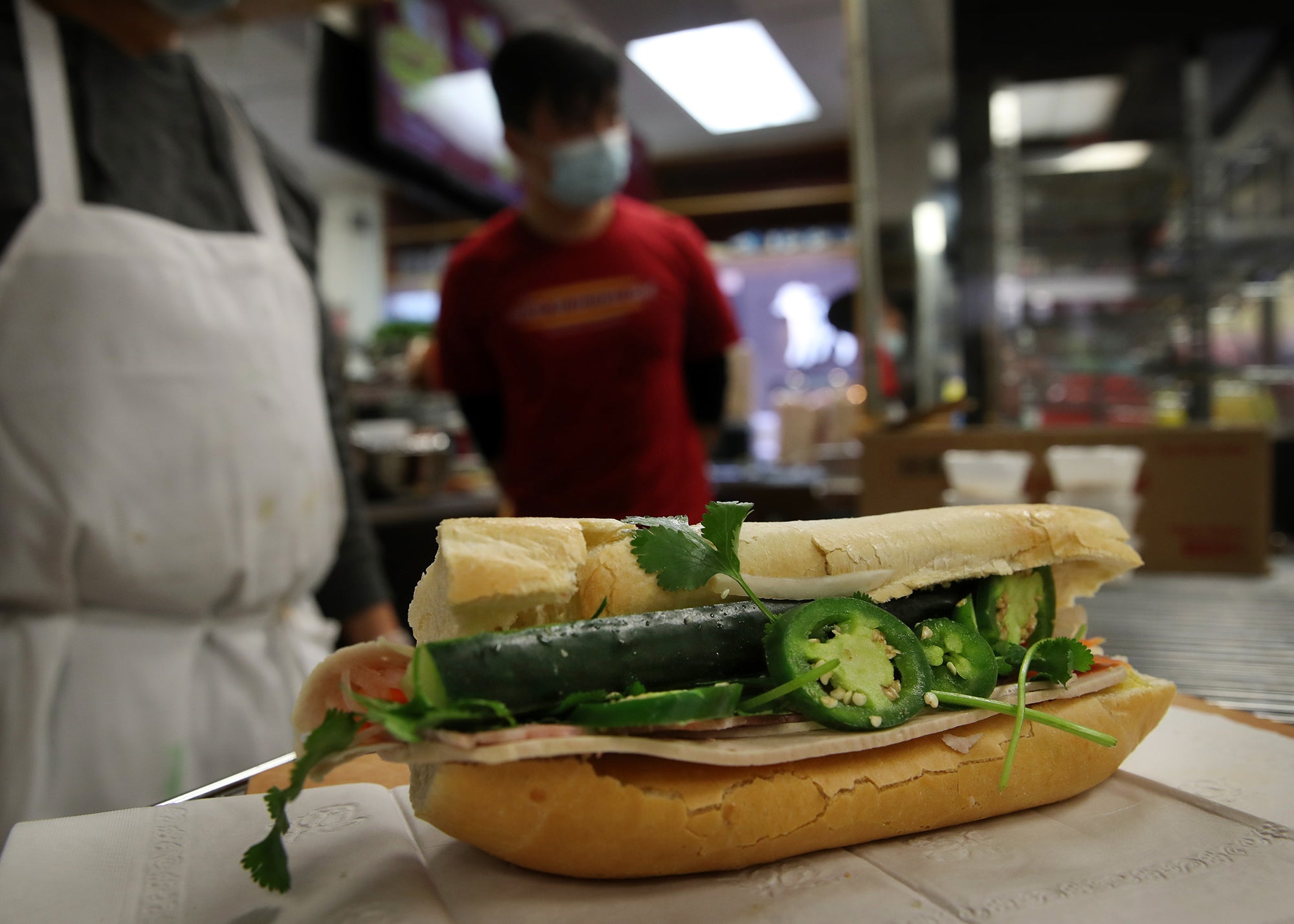 One of several standalone restaurants crammed into a tiny food court on Beach Street, Avana stands out for being one of the best budget-sushi options in town. A lunch special that includes miso soup, a choice of maki, and two sides reliably packs its limited counter space with sushi-craving students. (42 Beach St.)
Bánh Mì Hu'o'ng Quê
Fans who mourned the loss of New Saigon Sandwich, which closed in June 2020, can find comfort in its replacement, Bánh Mì Hu'o'ng Quê. The bánh mì shop serves its sandwiches on thick, flaky rolls, and offers a range of options from traditional bánh mì to Vietnamese meatball, pork teriyaki, and pâté egg sandwiches. Pair your handheld lunch with a Thai iced tea or mango smoothie. Cash only. (696 Washington St.)
A 2 a.m. closing time makes Dumpling Cafe one of the neighborhood's preeminent night-owl haunts, and local dumpling seekers are enamored with the menu, which is stocked with Chinese and Taiwanese favorites. If you haven't yet experienced the bursting-mouth sensation of biting into a soup dumpling, this is an excellent place to start. (695 Washington St.)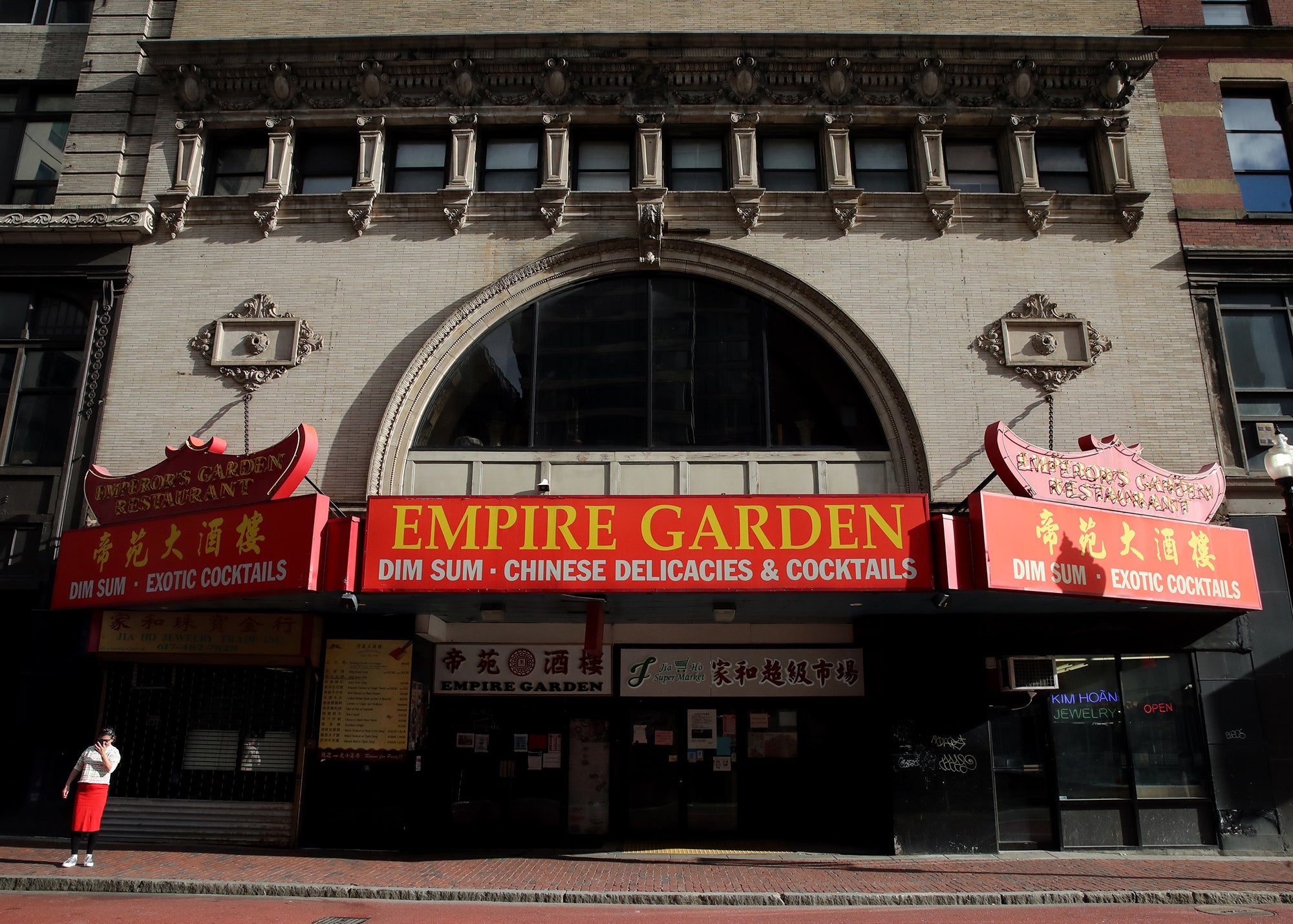 As far as dim sum offerings go, the plates at Empire Garden don't quite measure up to those of Winsor Dim Sum Cafe, but its setting and history are worth a visit alone. It's housed in a theater that dates back to 1903 and saw use as a vaudeville hall and a martial arts cinema before conversion to its present restaurant form, where you can now dine on Chinese classics and slurp a sugary scorpion bowl while admiring the faded beauty of the decor. (690 Washington St.)
Upon first glance, the centrally located Five Spices House may appear nondescript from the other Chinatown eateries, but spicy Szechuan dishes like dan dan noodles will argue otherwise. A lunchtime sampler comes with a soul-warming medley of crab rangoon, chicken fingers, and chicken wings. (58 Beach St.)
Purists may point out that Gene's technically sits in Downtown Crossing, but this hand-pulled noodle joint on Chinatown's border is too good to exclude. Students and State Street workers alike line up for its inexpensive Xi'an-style noodle bowls bursting with garlic and hot spices. (86 Bedford St.)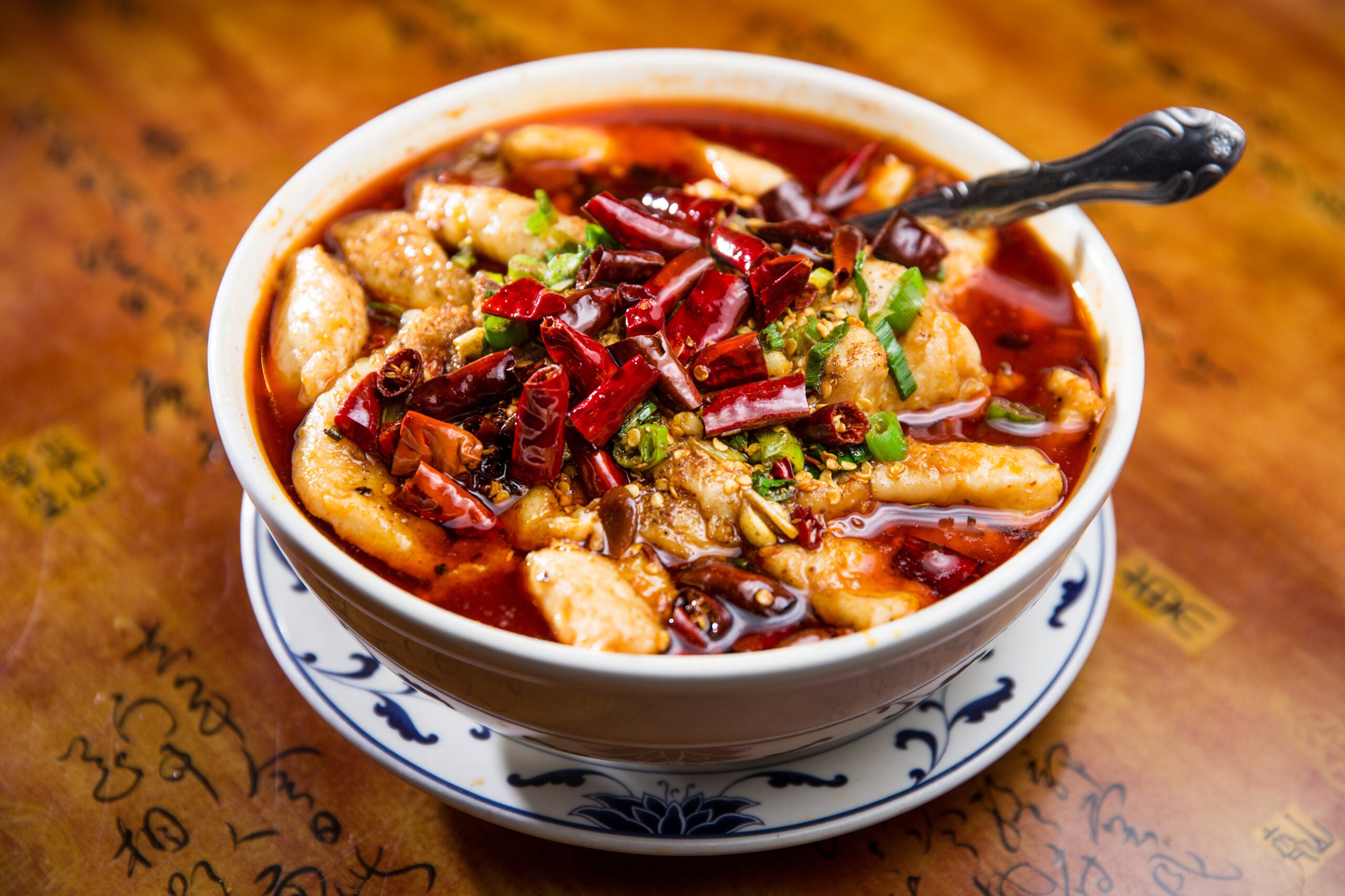 No matter the time or day, there's usually a line outside the door at Gourmet Dumpling House. You can chalk that up to the cult following garnered by its many dishes, which range from exceptional takes on American-Chinese comfort fare like kung pao chicken to the fan-favorite spicy Szechuan fish soup (and, of course, dumplings of all kinds). (52 Beach St.)
Another dim sum stalwart in Chinatown, Hei La Moon's bustling banquet room quickly fills on the weekend with carts pushing shumai, pork buns, har gow, chive dumplings, and sticky rice wrapped tightly in lotus leaves. Flag down the dessert cart at the end of your meal for egg tarts and soybean pudding. (88 Beach St.)
The second-story My Thai Vegan Cafe is a godsend for animal product-abstaining locals. It features a mix of expected dishes like pad thai alongside more ambitious fare such as whole coconut stuffed with veggies and red curry, and a fried taro root "bird's nest." A solid selection of bubble teas, vegan cakes, and sweet rice-based desserts help to satisfy vegan sweet tooths, too. (3 Beach St.)
In a neighborhood known for its competitive lunch special pricing, New Jumbo Seafood might take the cake. A selection of affordable lunch specials supply rice, hot-and-sour soup, your choice of appetizer, and a comfort-classic entree like sweet-and-sour chicken or beef with broccoli. Outside of the set lunch, a wide-ranging menu offers everything from sizzling hot pot to roasted pigeon. (5 Hudson St.)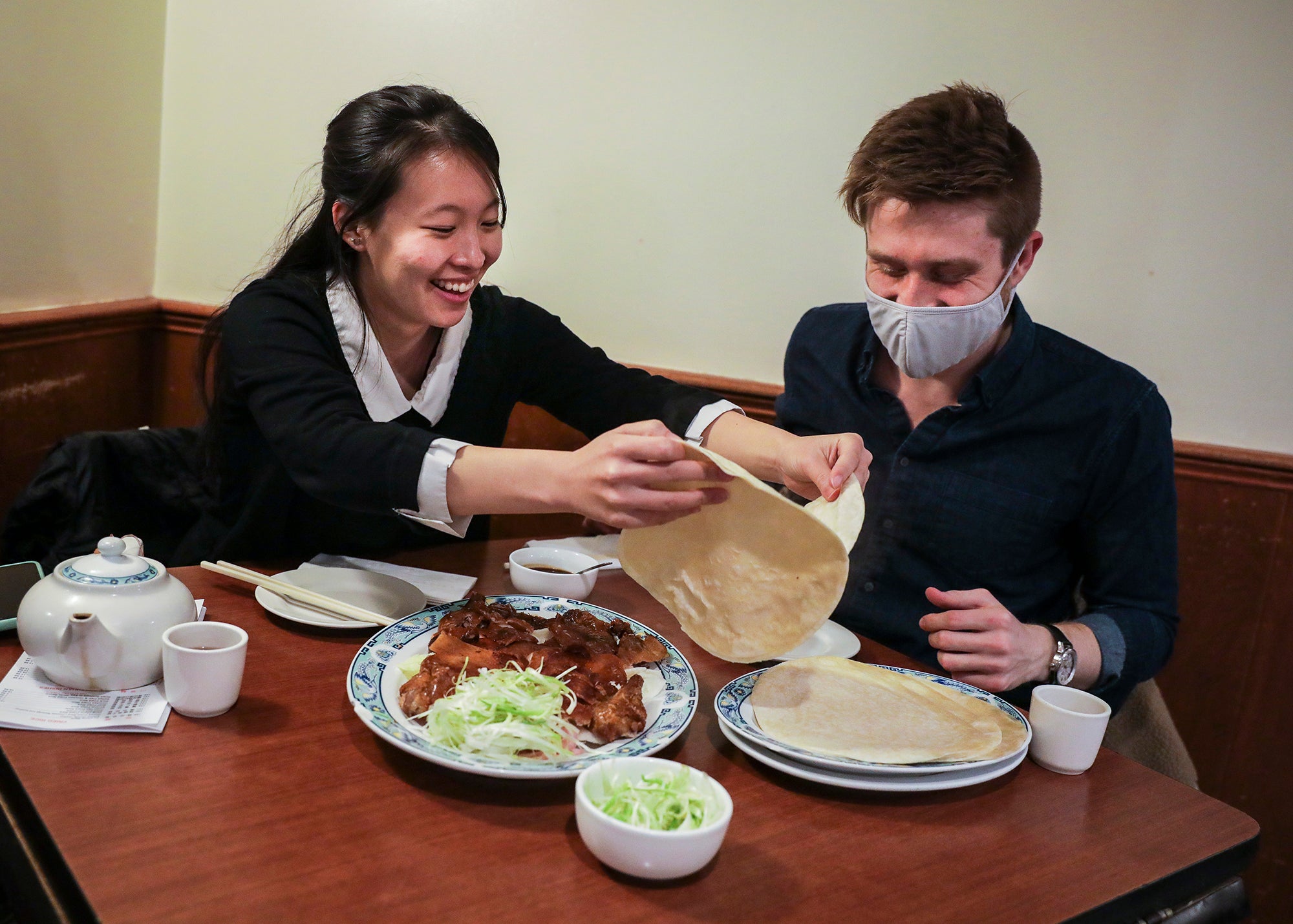 Though it used to stay open until 3 a.m., the pandemic has forced Peach Farm to shift its closing time to midnight. Still, the local legend and industry hangout remains a great spot to satisfy a late-night craving for Peking ravioli. While its menu is enormous, Peach Farm earns high marks for seafood dishes such as clams in black bean sauce and the sizzling flounder house special. (4 Tyler St.)
Penang stands out in Chinatown for its Malaysian focus and bamboo-filled, faux-village dining room. Try Malaysia's national dish of nasi lemak, which pairs coconut rice with chili anchovies, curry chicken, and hard-boiled eggs. Penang's varied menu showcases the diversity of Malaysian cuisine with selections like Hainanese chicken rice and nasi goreng (fried rice with shrimp paste, egg, peppers, and meat or shrimp). (685 Washington St.)
Pho Pasteur may not win the same points for authenticity that the Vietnamese eateries of Dorchester are awarded, but its central location, heaping bowls of pho, and remarkably fast service have made it a favorite of college students, tourists, and locals. Though often passed over, the broth-less, vermicelli-based bún chả dishes are worth a taste. (682 Washington St.)
For larger groups, head to Q, a hot pot restaurant on Washington Street where you can choose from more than a dozen broths, assorted vegetable platters, and a selection of rice and noodles, like the Korean-style sweet potato noodles and Szechuan hot pot noodles. À la carte items include wagyu short rib, lobster tail, and Chinese fried dough sticks. (660 Washington St.)
There's no shortage of hot pot in Chinatown, and Shabu-Zen is another local favorite. There's a selection of eight broth styles (standouts include the Japanese miso and Szechuan-style spicy) and main courses range from simple pork and chicken dishes to a decadent Wagyu strip loin. (16 Tyler St.)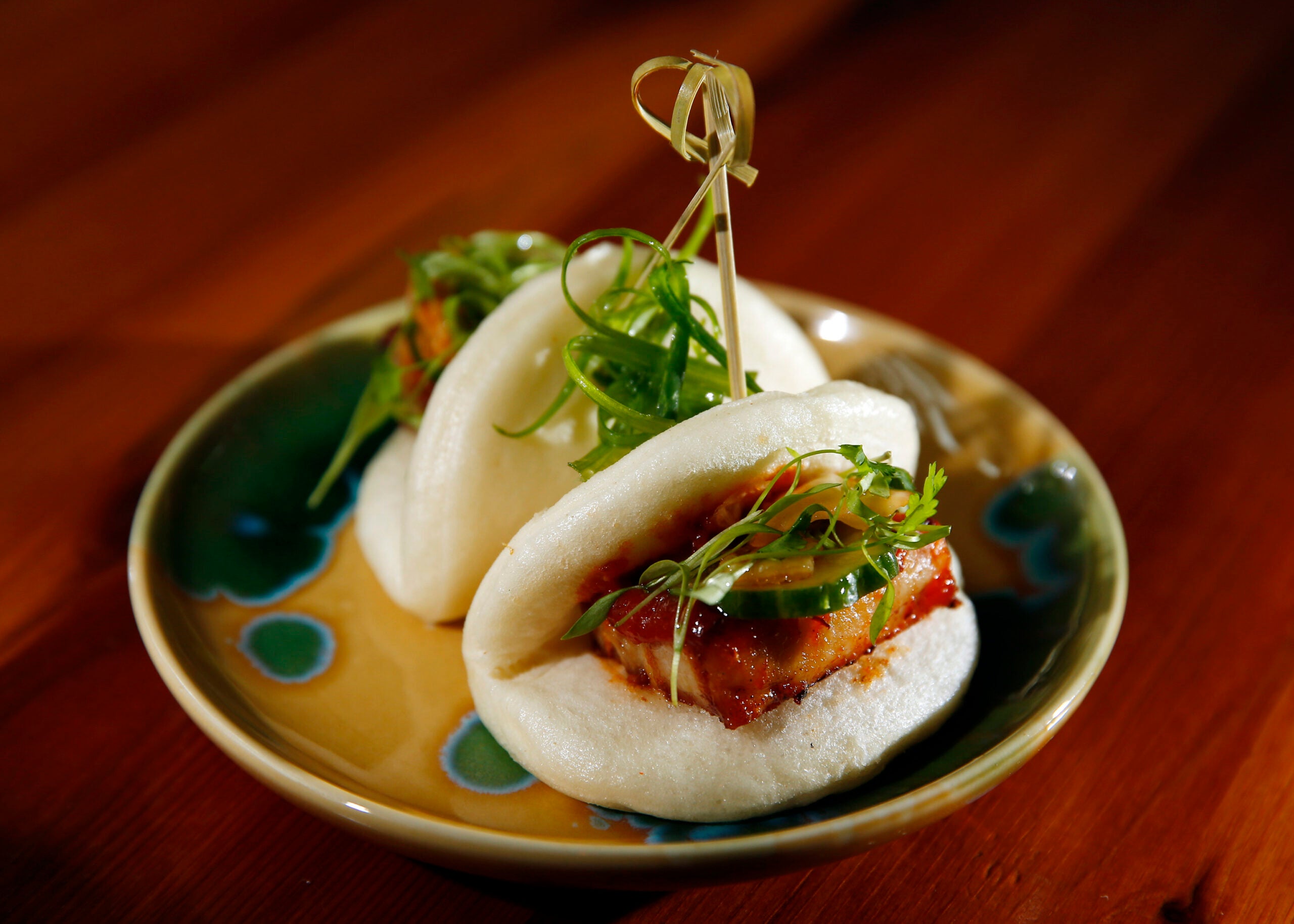 The low-key, mom-and-pop atmosphere that permeates most Chinatown restaurants isn't on display at Shojo. Here, you'll find a bumping hip-hop soundtrack, a back wall covered in graffiti art, and an anarchic, ever-changing menu that produces dishes like kung pao chicken sandwiches and "shadowless" duck fat fries smothered in ground beef, mapo tofu, and "kimcheese." It's the perfect fare for soaking up the Asian-influenced cocktails and extensive Japanese whiskey collection. (9 Tyler St.)
With a 1 a.m. closing time, Taiwan Cafe is another entry in the Chinatown late-night dining club. Taiwanese dishes served family style are the specialty here, including pan-fried pork buns, stinky tofu, and beer-braised duck. (34 Oxford St.)
This compact, no-frills restaurant tucked away on Tyler Street lays claim to some of the best kaisen don in Boston. Fresh seafood is piled high onto sushi rice, with bowls like the kuromon don highlighting yellowtail, salmon, tuna, mackerel, and red snapper. Sushi and sashimi platters area also available. (20B Tyler St.)
Wai Wai
Wai Wai is hidden in a tiny, lower-level space on Oxford Street with just a handful of tables and minimal decoration. You'll see the menu from the moment you walk in: a hanging roast duck and suspended cuts of roast pork, barbecue pork, and chicken. Any, or all, can be chopped up for you and spread over rice with scallions, or served in a noodle soup. Bring cash. (26 Oxford St.)
Winsor Dim Sum Cafe 🥟
Winsor lacks the elaborate decor — and extra space — of some other dim sum spots in Chinatown, but its weekend popularity is a testament to the quality of its dim sum. There's nothing showy about the service, and you won't see any carts, but you will receive made-to-order egg yolk custard buns, shumai, and steamed pork buns. Unless your party can fill a whole table, expect to share your meal with dim sum-seeking strangers. (10 Tyler St.)
Tell us about your favorite Chinese restaurant
Stay up-to-date on food news
Sign up for The Dish and get the latest food and restaurant news in your inbox.